Bill Evans,
Turn Out The Stars: The Final Village Vanguard Recordings
(Nonesuch). This six-CD box set has kicked up a fuss lately on several blogs and web sites. The great pianist was dying when he recorded it. That knowledge informs the way critics hear the music he made with his trio at the Vanguard in June, 1980.
Their arguments
about artistic assent or decline are fascinating. But the music is what matters, and the music is magnificent. This would be an essential item even if the price were not less than a third that of the original edition.

Christian McBride & Inside Straight, Kind of Brown (MackAvenue). The bassist sets aside his fascination with rock, hip-hop and electronica to cruise the mainstream. He uses only his acoustic bass. The music is latterday bebop, with a few modal tinges. Alto saxophonist Steve Wilson, always impressive, is at a peak here. His unison lines with young vibraphonist Warren Wolf are an attractive element. Eric Reed and Carl Allen are on piano and drums. After nine tracks of hard swinging, McBride picks up his bow to beautifully intone the melody of Jimmy McHugh's "Where Are You?"

Kristin Korb, In The Meantime (KK). In the nature of things, attention will go to Korb's vocals and her glamorous makeover illustrated in the cover shots. Serious listeners will also be drawn to her bass playing. She accompanies herself as she sings with pianist Llew Matthews, saxophonist Bob Sheppard, guitarist Larry Koonse, drummer Steve Barnes and vibist Nick Mancini. She solos impressively on "Ain't Misbehavin'," adapts James Brown's "I Feel Good" to introduce Bob Dorough's "Better Than Anything," finds joy in "I Got It Bad" and introduces her intriguing ballad "If I Am Ever Yours."

Philip Dizack Quintet Live In Barcelona Featuring Greg Tardy (Fresh Sound). Dizack, from Milwaukee, Wisconsin, was 20 when he played a club during the 2005 Barcelona Jazz Festival. Fresh Sound Records was on hand with a camera crew to capture a trumpeter with a huge sound, audacity and polished technique tempered by taste and imagination. Pianist Miro Sprague, bassist Pere Loewe and drummer Obed Calvaire appear to be only slightly older than Dizak. Tenor saxophonist Greg Tardy, 39 at the time, is the grizzled veteran of the group. Superb sound, camera work and direction put the viewer virtually on stage for an exhilarating performance by a tightly integrated band.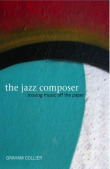 Graham Collier, The Jazz Composer: Moving Music Off The Paper (Northway). The title reads like that of a textbook, but this evaluation of the art is accessible to any layman with ears. Contradicting conventional wisdom about some composers, Collier nudges Thad Jones from his pedestal, for instance, and shrugs off Bill Holman with minor praise. He puts in perspective Ellington's habit of borrowing and praises Gil Evans nearly without reservation. Whether or not you agree with Collier, he backs his positions with evidence and references and makes readers think hard about what they listen to. This is an important book.
This story appears courtesy of Rifftides by Doug Ramsey.
Copyright © 2020. All rights reserved.