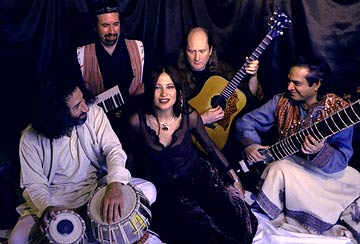 Two Ancient-Future.Com Titles Selected for NPR Discover Songs Program


In Stores 12/10/09-1/20/10: Planet Passion by Ancient Future and Sangria by Mariah Parker
With the NPR Discover Songs Program, the book and music distribution company Baker & Taylor has partnered with National Public Radio. In this branded merchandising program, book stores showcase six exciting new CD titles every six weeks selected by knowledgeable experts at Baker & Taylor and NPR. Two Ancient-Future.Com titles were selected for the December (12/10/09 to 1/20/10) NPR Discover Songs Program: Planet Passion by Ancient Future and Sangria by Mariah Parker!

Planet Passion (30th Anniversary Remastered Edition) by Ancient Future (Ancient-Future.Com AF 2010). $17.98: Buy 1 Now. (>audio.)

Re-issued with 64-Bit Tuned Harmonic Mastering to celebrate Ancient Future's 30th anniversary year, the seventh Ancient Future recording features nineteen top masters of Indian, Nepalese, African, Cuban, Celtic, Arabic, Palestinian, Jewish, Indonesian, Chinese, Eastern European and American music traditions.
"If the members of the United Nations formed a world-fusion band, it might look and sound a little something like Ancient Future's re-issue of their seventh recording. Featuring instrumentation from Africa, Asia, South America and the Middle East, Planet Passion is a mythical story of love, flirtation, seduction, courtship, marriage and longing. Manose Singh's bansuri flute and Matthew Montfort's scalloped fretboard work stand out in this eclectic, visionary global village, where each track features its own unique set of players. At its best, Planet Passion strives to preserve the world's vast musical heritage via international collaboration: the idea that one protects the old by creating something new. This is at the heart of fusion music and the heart of Ancient Future's global aesthetics, too: a diverse, unified world without borders, a multicultural community, a new, reconstituted sonic reality." — LEO WEEKLY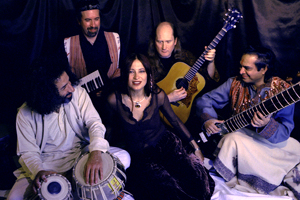 Well known to NPR listeners, Ancient Future is the first and longest running musical organization dedicated to the mission of creating world fusion music. The term was coined by bandleader Matthew Montfort in 1978 to describe Ancient Future's unusual blend of musical traditions from around the world. BILLBOARD calls the group "trendsetters" for their early contributions to the movement, which seeks to show how people from different cultures can grow by learning from each other. Over the years, Ancient Future has expanded its musical vision through collaborations with master musicians from more than two dozen countries, cultures, and musical traditions who are now an integral part of what is today more than just a band. Ancient Future has grown to become a large multinational music ensemble with many smaller ensembles within it, enabling Ancient Future to realize its core mission of creating world fusion music.
Ancient Future has released seven full length studio CDs selling over 150,000 units: Visions of a Peaceful Planet, Natural Rhythms, Quiet Fire, Dreamchaser, World Without Walls, Asian Fusion, and of course Planet Passion. Over one million legal mp3 files from these releases have been distributed commercially on sites such as iTunes. Ancient Future is also featured on samplers selling millions of units on labels such as Putumayo and Narada. The group is currently working on an ambitious new fan supported recording project, A.F.A.R. - the Archive of Future Ancient Recordings.

Sangria by Mariah Parker (Ancient-Future.Com AF 2017). $17.98: Buy 1 Now. (>audio).

Mariah Parker blends the driving rhythmic syncopations of Latin jazz with the complex rhythmic cycles of East India. Her original compositions draw musical inspiration from Brazil, Cuba, Spain, and India. Her Indo Latin Jazz Ensemble includes a stellar lineup of musicians from the bands Ancient Future, Oregon, Sun Ra, and Herbie Hancock's Headhunters: Matthew Montfort, trailblazing pioneer of scalloped fretboard guitar (an instrument combining qualities of the South Indian vina and the steel string guitar); Paul McCandless, 2-time Grammy Award nominee and woodwind virtuoso; Kash Killion, bass player and multi-instrumentalist with Sun Ra Arkestra; Mindia Devi Klein, award-winning composer and flutist; Duru Demetrius, latin percussionist with Herbie Hancock; Anuradha Pal, world's premiere female tabla player; Debopriyo Sarkar, tabla virtuoso whose recent tours include Kronos Quartet; and Brian Rice, versatile percussionist with players such as Mike Marshall.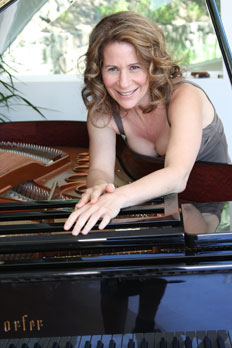 "Sangria blends the rhythmic syncopations of Latin jazz music with the entrancing, asymmetrical meters of East Indian rhythms resulting in first-class world music. Intriguing melodies that draw musical inspirations from the tempos of Brazil, Cuba, India, and Spain make for an uplifting serene yet passionate musical journey into an ideal world." — LATIN BEAT MAGAZINE
"This collection of eight original instrumentals by Mariah Parker is just one of many examples of the infusion of East Indian music into Western music, but to my ears one of the most successful. There are also influences of Spanish folk, flamenco, Afro-Cuban and Persian music. Indian tablas and bansuri flute are heard on many of the tracks, and noted English horn/soprano sax artist Paul McCandless graces two of the tracks. Guitarist Matthew Montfort plays a special scalloped fretboard guitar, and on the track 'Tenth Journey,' a typical Hindustani rhythmic vocal improvisation is featured. There are also interesting alternate time signatures which add to the exotic blend of instruments. This album grew out of the path-breaking work of Ancient Future, one of the first ensembles to explore the now-active genre of world music." — AUDIOPHILE AUDITION
Mariah Parker (composer and multi-instrumentalist), while completing her degree in music at UC Santa Cruz, worked with ethnomusicologist Fred Lieberman and Mickey Hart on the Planet Drum project. She has performed in the USA and Europe, and worked with many musicians of note including composer Pauline Oliveros, the late Dumisani Maraire (renowned composer from Zimbabwe) and others. She has studied with jazz great Art Lande and Latin jazz pianist extraordinaire Rebeca Mauléon, and performs regularly with the trendsetting world music group Ancient Future.