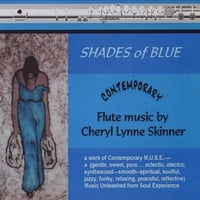 Louisville, KY—-Not to be missed! Composer-Musician
Cheryl Lynne Skinner
will be featuring contemporary flute music in several unique and intimate venues in the Louisville area on the "Toot That Flute Tour" during the month of July 2011. Skinner a triple threat performing on keyboard, flute and vocals presents an inspirational program of contemporary M.U.S.E. (music unleashed from soul experience). Skinner's compositions defy classification as she combines a myriad of styles, including Jazz, R&B, Latin-American, African and classical to achieve her unique smooth inspirational contemporary sound.
Elinez Music, Skinner's independent label celebrates two releases under her brand, Sunday Afternoon taped "Live" at the Kentucky Center for the Arts and Shades of Blue, a celebration of the blues form and its tone color.
Friday-July 29, 2011@ 6:00 PM
Beadweavers
F·A·T FRIDAY-Frankfort Avenue Trolley Hop
2031 Frankfort Avenue
Louisville, Kentucky 40206
Phone Number: (502) 897-9601
EARLY WARNING
Sunday-September 18, 2011 @ 8:00
Toot That Flute Tour
SHRINE
2271 Adam Clayton Powell Jr. Blvd
NY, NY (Harlem)
Phone Number: 212-690-7801
Skinner's music has been featured in media by WUKY 91.3 FM radio in Lexington, KY interviewed by host John Rose, radio documentary by Chicago WBEZ's Jodi Becker, and Chicago NPR's award winning journalist & broadcaster Mara Tapp, The Sunday Afternoon Concert was filmed for the Kentucky Education Television network (KET) documentary, "Go For Baroque" was adopted as first theme song for KET program, "Mixed Media." and recently Sunday Afternoon CD was included on the play list on WPFW's "Spirit of Jazz" show hosted by Lona Alias featuring an eclectic mixture of inspirational tracks including notables Chaka Khan, Martina McBride, Celine Dionne, Josh Groban, Nina Simone, India Arie, Stevie Wonder. Venues interested in booking engagements in conjunction with the "Toot That Flute Tour" To please contact Gwen Young Stith: gwenyoungstith@earthlink.net or call 502-550-8279.