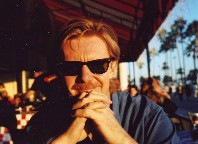 Tomas Janzon Coast to Coast to Coast
Cornelia Street Cafe
29 Cornelia St
Sunday Oct. 28, 8:30 PM
Featuring: Tomas Janzon-compositions, guitar
Ben Dixon-drums
Ken Filiano-bass
Reservations recommended (212) 989-9319


Time Traveling Sessions:
"When deciding to make a record of my recent experiences I realized the last couple of years has involved so much traveling that it would be natural to use the aspect of different locations and different people in the music.

Around August 2005 the piles of scribblings and musical ideas started calling. I had to respond; start working out the music, and by mid November I was in Brooklyn recording with Ben Dixon-drums and Ken Filiano-bass. In December (2005) I was touring in Sweden and here was another opportunity to record: with Ali Djeridi-drums, Birger Thorelli-marimba and Lars Ekman-bass. Finally back in Los Angeles with William Henderson-piano, Jeff Littleton-bass and Tony Austin-drums another four tunes were added.

When mixing this project with Nolan Shaheed at Nosound in Pasadena I believe we found a common ground for these time traveling sessions: somewhere in the testing of new and old ideas in composing the tunes and somewhere in the close relationship to playing time by all these fantastic musicians. We hope the musicianship, creativity and imagination of these constellations and locations will carry through to You."


"...all are unified by a crispness and intimacy that highlights Janzon's cool, subtle style." --Forrest Dylan Bryant, JazzTimes.




"It's the one with Filiano and Dixon that most left me wanting access to more." --Derek Taylor, Cadence.


Coast to Coast to Coast is available at CD Baby and iTunes.