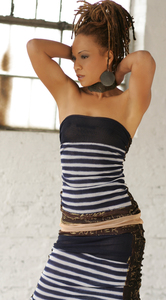 Incorporating various art forms the Foundation will highlight the life, the music and the civil rights activities of Dr. Nina Simone.



The Nina Simone Foundation has created a special touring arts experience titled Nina; No Illusions, No Escape--A Tribute to Dr. Nina Simone, High Priestess of Soul.

The series of events will include elements of live theater, visual art, spoken word, dance, fashion, and of course music. There will also be a special exhibition of items from Dr. Simone's personal life, a fund-raising gala and a speaker's forum.



The inaugural series of events will be held in Atlanta, GA on September 25th through October 3rd, 2009. As we move forward we plan to take this arts experience to various cities throughout the United States as well as select cities in other parts of the world.



Our unique tribute is designed to re-present the life and legacy of Dr. Nina Simone to those who knew her and introduce her to the next generation. To support in reaching our goal, we have incorporated the talents of some of the region's most gifted visual and performing artists.



"There's no excuse for the young people not knowing who the heroes and heroines are or were." --Dr. Nina Simone



Why are we doing this?

Growing up in Tryon, North Carolina Eunice Kathleen Waymon showed a great talent for music. When she was six years old a local benefactor paid for her first piano lessons. Throughout her formative years the local community set up a fund so that she could continue her music education. Because of their generosity the world was able to benefit from the great talent that we know as Nina Simone; the High Priestess of Soul.



The Nina Simone Foundation has been set up to continue this tradition. We hope to identify young creative talents throughout the United States and abroad and support their development much in the same spirit that Nina was supported as a child.



"Once I understood Bach's music, I wanted to be a concert pianist. Bach made me dedicate my life to music and it was that teacher who introduced me to his world." --Dr. Nina Simone





What you can expect.



A Musical Tribute

Lisa "Simone" Kelly, Nina's only child, will present an emotionally charged, energy filled tribute to her mother. With a rich heritage to draw from, a wealth of accomplishments and accolades as a Broadway star and live performer and a finely-developed sense of her own unique artistry, Simone has established herself as a successful recording artist of the first order. She's off to a wonderful start with Simone On Simone, an album that honors her mother's musical contribution while beginning a new chapter in her own musical journey. This tribute will be one of the most compelling and personal elements of this project. To find out more go to: www.simonesworld.com



Live Theater

Blue Bistro Theater is developing a short theatrical presentation for this event. The one-woman short play will center on moments that defined the legendary singer. Opera Singer, Model and Actress: Arveyiel Fortilla will grace the stage as the High Priestess of Soul.



Expressionistic Dance

A collaborative of dancers from Metro Atlanta is developing a special dance inspired by Nina Simone songs.



Spoken Word

We have secured the commitments of two spoken word artists who happen to be great fans of Dr. Simone's work. Amyr Heard will present an original work from a woman's point of view while "Substance" (Stanley Singleton) will offer a rhythmic dissertation from the perspective of men.



Fashion

Local designer, Summer Sheree Jeter, presents the 'Looks of Nina' fashion exhibit. The exhibit takes elements of Nina's style from the 1950's, 1960's and 1970's and presents these looks through an inspired collection of six modern dresses.



A Silent Auction

The Nina Simone Foundation (NSF) is a non-profit organization established by, Lisa Simone Kelly, for the preservation and celebration of the music, socio-political contributions and overall legacy of the late Dr. Nina Simone. We will hold an auction during this series of events to benefit the Foundation.



For our Atlanta show we have established partnerships with Space and Thirteen TEN Events. Space, a newly developed restaurant will provide catering and facility services, while next door Thirteen TEN, a 15,000 square foot private event space, will be custom designed and built to suit this occasion. Both Space and Thirteen TEN are located in Atlanta's historic Westend Community at 1310 White Street.