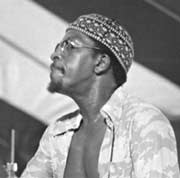 "Guardian of the Groove," a one-hour documentary on the late New Orleans drummer & composer James Black will air at 11pm (eastern) on Saturday night (January 24, 2009).

This outstanding program is written & produced by award-winning independent producer David Kunian.

"Guardian of the Groove" features Ellis Marsalis, Alvin Batiste, Branford Marsalis, and Reggie Workman among many others whose lives were touched by this legendary drummer.
This story appears courtesy of All About Jazz Publicity.
Copyright © 2021. All rights reserved.