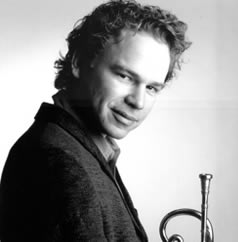 It's hard to pick a highlight on this record. It touches so many aspects of what makes a great jazz record. This is a must have. You will not be disappointed!
Vancouver, B.C., Wednesday, January 02, 2008 : Maximum Jazz is proud to announce the new release "Small Wonder" by the Brad Turner Quartet is currently the number one recording at jazz radio across the country. Released in-stores across Canada on October 30, 2007 via the Maximum Jazz label and EMI Music, Small Wonder has held the number 1 and 2 spots on the Earshot and ChartAttack charts respectively since Dec 18, 2007.
In a recent review by Marke Andrews of the Vancouver Sun stated that Small Wonder is "Horn at its purest" and gave it 4 out of stars!
Brad Turner's phenomenal talents as a trumpeter, pianist, drummer and composer make him one of Canadas most-in-demand musicians. As a leader, Brad has released five albums:
* 2005 | Brad Tuner Quartet | What Is
* 2004 | Brad Turner Trio | Question The Answer
* 1999 | Brad Turner Quartet | Live At The Cellar
* 1998 | Brad Turner Quartet | There and Back
Other artistic awards include multiple National Jazz Awards for Jazz Trumpeter of the Year (1999), Jazz Composer of the Year (2000 & 2002) and Musician of the Year (2005). In 2006 Brad was awarded the coveted Canada Council Victor Lynch-Staunton Prize for excellence in musical achievement.
In addition recognizing his work as the founder of the internationally acclaimed electric jazz group Metalwood, Brad took home Juno Awards for Best Contemporary Jazz Album in 1997 and again in 1998.
A very big shout out to those who have supported and continue to support Brad's new record! You know who you are!
About The Maximum Music Group:

Having released over 100 titles of varying styles of music the tow labels Maximum Music and Maximum Jazz represent our recorded music division and have been responsible for launching the careers of some of the finest singer-songwriters in the Canadian music today. Maximum Jazz the original home for jazz super-group Metalwood played an instrumental role in the resurgence of Randy Bachman's career with the release of his debut jazz recording JazzThing. The multiple successes of the Maximum Music imprint made it possible for the formation of some of the finest smaller indie-record labels in music today including jazz/creative music label Drip Audio, the award winning folk/roots imprint of Black Hen Music, jazz label Cellar Live and the roots/rock label of Northern Electric - all had their start at Maximum Music.

Our recorded music division has gone on to attain an impressive list of critical praise, nominations and industry awards that include:

* 6 Juno Awards & 19 nominations
* 5 Western Canadian Music Awards & 34 Nominations
* 5 CMW "Indie" Awards & 11 Nominations
* 7 National Jazz Awards & 24 Nominations
* 3 Canadian Urban Music Award Nominations
* 2 National Folk Awards Nominations
This story appears courtesy of All About Jazz Publicity.
Copyright © 2020. All rights reserved.