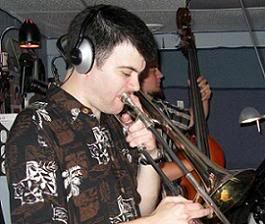 Slide Zone is a five trombone and rhythm section group, playing many arrangements from the Trombone group, Capitol Bones, based in Washington D.C., plus their own arrangements and compositions.
Slide Zone has played at the Bellefonte Arts and Crafts Fair as well as the PA Jazz Festival, and other private functions. From Swing to Latin, this is a group that plays many styles. The musicians not only play in this ensemble but are members of many different groups in the central region.
The current edition of Slide Zone includes.
Jay T. Vonada - lead and jazz trombone
Mark Lusk - lead and jazz trombone
Mike Bruster - trombone
Dave Priester - trombone
Mike Loewen - bass trombone
Adam Kurland - keyboards
Philip Burlingame - bass
Kevin Lowe - drums
This story appears courtesy of All About Jazz Publicity.
Copyright © 2021. All rights reserved.