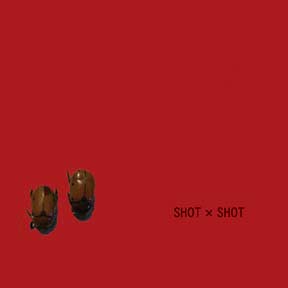 Shot x Shot is an improvisational acoustic quartet performing original compositions steeped in jazz tradition, but with experimental sensibilities. Formed in 2003, while the members were students at The University of the Arts in Philadelphia, it has quickly established itself as one of the most groundbreaking bands in one of jazz's most important cities. On its self-titled debut, the group showcases its compositional dynamism and transcendental vibrancy creating a unique balanced sound that is often missing in improvisational jazz.
Fellow Philadelphian, jazz critic and author Francis Davis hears the band's vitality. "Something fresh and exciting is unfolding in jazz, and these talented young Philadelphians are doing their part to speed it along," writes Davis. "It's been ages since I've heard a debut recording this adventurous and assured."


Usually in jazz, youth is seen as a liability, but for Shot x Shot the opposite is true. Having been exposed to and performed all sorts of eclectic music, Shot x Shot infuse their music with diverse modern influences and a daring spirit, creating an experimental mix of sounds and structures.


With Dan Scofield (alto) and Bryan Rogers (tenor) on dueling saxophones ballasted by Dan Capecchi (drums) and Matt Engle (bass), the band's multi-dimensional, layered sound relies on each musician's unique contribution. Both Scofield and Engle are key members of Sonic Liberation Front, the African percussion-infused jazz group, whose 2004 High Two album Ash A Go-Go, was widely praised by the Village Voice, Jazz Times, The Wire, and others. Scofield is also a member of the noise-improv band Wolf Vs. and performs, alongside Rogers, in Bobby Zankel's large ensemble. Capecchi, a recent transplant from Minnesota, is a former member of indie rock band Triangle and the folk ensemble Jackaroo, now also plays in the Jeff Baumeister Quartet.


Shot x Shot is reminiscent of Human Feel, the band that launched the careers of Chris Speed, Jim Black, Andrew d'Angelo, and Kurt Rosenwinkel when they were music students in Boston. Similarly, Shot x Shot unites unique voices who are poised to be important musicians individually and collectively.

Liner notes by Francis Davis:

What's likely to strike you first about Shot x Shot's debut CD is Dan Scofield and Bryan Rogers's twin saxophone keening. The Philadelphia-based quartet's signature sound, it's going to remind some listeners of Lee Konitz and Warne Marsh, and others of Coltrane and Pharoah Sanders--let's split the difference and say it's like Konitz and Marsh in a more heated setting. This is music in which foreground and background are constantly shifting: the ear is drawn to the two horns, because that's the way we're used to listening to jazz; but Matt Engle's bass and Dan Capecchi's drums are often out front, and their ongoing dialogue is as vigorous and loose-limbed as Scofield and Rogers's. So along with Coltrane and the Tristanoites, listeners might also be reminded of Ron Carter and Tony Williams with Miles, and even more so of Charlie Haden and Ed Blackwell with Ornette Coleman (as Capecchi points out, "we originally bonded over our mutual love of Ornette Coleman's music" as students in Philadelphia at the University of the Arts).


All well and good--these are enduring influences and convenient points of reference in listening to Shot x Shot. But it's good to remember three of the band's members are still in their early twenties (Capecchi is the old man of the group at 26). These young musicians have also been keeping tabs on recent developments. Rahsaan Roland Kirk, Tim Berne, and John Zorn are also in the mix, along with Brian Eno, Sly Stone, gamelan, and film (the band's name is a conscious film reference). This recording makes it clear that the members of Shot x Shot haven't been passive receptors for these diverse influences. Indeed, it's as if they've found the common thread between them, starting with Tristano and continuing up to the present--an emphasis on improvisation, rather than solos per se.


"Very few of our compositions make it to performance without the entire group shaping and reshaping them in terms of form and sound," says Scofield, who also gigs alongside Rogers in Bobby Zankel's Warriors of the Wonderful Sound and the eclectic, world-music influenced Sonic Liberation Front, which also includes Engle. "We usually talk in detail about each composition, both in terms of concrete things--rhythm, dynamics, improvisational cues, and instrumental pairings--and abstract concepts like shape, texture, and sonic space." His own "Volzalisle"--the most instantly spellbinding of the five performances here, with its dovetailing saxes, suspended rhythms, and slow combustion-- is a kind of mantra based on a theme he originally composed on kalimba and meant to exploit the boomy acoustics of St. Mary's Church (whose rectory once housed the Empty Foxhole, the only place in Philadelphia to hear the likes of Cecil Taylor, the Art Ensemble of Chicago, and David Murray in the 1970s).


The swarming and aptly titled opener "Bee Assassins" was written by Capecchi, who describes it as "a head on which the tenor has a droning note over which the alto plays a twisted, quarter-note triplet melody--and when the bass comes in, it's the same as the alto's melody, but in quarter notes rather than triplets." During the improvisations, "we come back to the original alto melody, but in a different way each time." Capecchi's "One Point Three Full Breaths" is built around "the tension between the deliberately mechanical- sounding bass line and the horn melody, which is human and somewhat hesitant." In the ensuing free improvisation, alto, tenor, and bass "all have melodic figures with identical rhythm--quarter, half, quarter, quarter--in 7/8 that start at different points of the measure. The drums adhere to this as well, but I occasionally leave the pattern to let it breathe." And breathe it does, largely thanks to Capecchi's ability to sustain momentum and pulse while steering clear of a regular beat. Despite the elliptical title (based on a piece of bygone Philadelphia graffiti), "The Chains of Agree," is the album's most straightforward piece, with its ticking rhythms and singing saxophone unison. "Two Improvisations" is what the title implies--a collective, in-the-moment performance that increases in complexity as it swells in dynamics, and whose organization and discipline is a tribute to Shot x Shot's group identity.


Don't buy the lie that jazz has completed its evolution and virtuoso recapitulation is all we have to look forward to from here on out. Something fresh and exciting is unfolding in jazz, and these talented young Philadelphians are doing their part to speed it along. It's been ages since I've heard a debut recording this adventurous and assured.
This story appears courtesy of All About Jazz Publicity.
Copyright © 2020. All rights reserved.