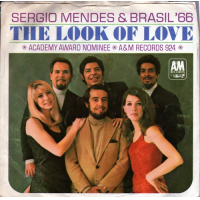 Suffering from poor albums sales as a jazz-bossa pianist at Atlantic Records in 1965, Sérgio Mendes decided to listen to a recommendation made by Richard Adler, a producer at A&M Records. Adler, who would become Mendes's partner, urged him to keep his Brazilian feel but bring on American female vocalists to sing contemporary pop hits in English. So Mendes gave it a shot at A&M, and the result was the Brasil '66. Their first album,
Herb Alpert Presents Sergio Mendes and Brasil '66
, was a massive hit. One of those female vocalists was Lani Hall, who would become Herb Alpert's wife in 1973.
Here are a handful of videos of the Brasil '66:
Here's
their first hit,
Mas Que Nada
...
Here's
The Fool on the Hill
...
Here's
Going Out of My Head
...
Here's
Pretty World
...
Here's
Watch What Happens
...
And
here's
Wichita Lineman
...
This story appears courtesy of JazzWax by Marc Myers.
Copyright © 2020. All rights reserved.