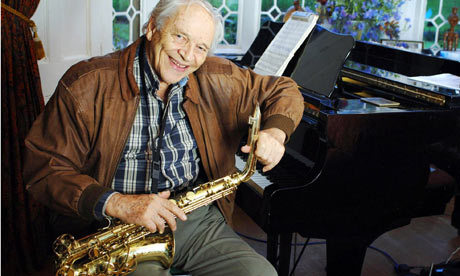 Sir John Dankworth, a totemic figure of the British jazz scene who worked as a musical director for artists including Nat King Cole and Ella Fitzgerald, has died at the age of 82.

The saxophonist, whose career spanned more than half a century, died yesterday in King Edward VII hospital, London. He had been ill for several months.

Dankworth enjoyed a parallel career as a film and television composer, and wrote the theme tune for television shows The Avengers and Tomorrow's World, as well as scores for films of the 1960s, such as Saturday Night and Sunday Morning, The Servant and Modesty Blaise.

Born into a family of musicians in Essex in 1927, Dankworth, known earlier in his career as Johnny, studied at the Royal Academy of Music after winning a place there at the age of 17. He was voted British Musician of the Year in 1949 following a period of national service, and met his wife, the jazz singer Dame Cleo Laine, in 1950.

His group, The Dankworth Seven, became a favourite of the British jazz scene in the 1950s, and he shared the stage with numerous jazz legends, including Charlie Parker.

Dankworth's agent Jim Murtha told the BBC: "For British jazz and jazz around the world, I believe John has become such an international figure, particularly since he became Sir John Dankworth a few years ago."

Jazz musician Jamie Cullum paid tribute to Dankworth on his Twitter page, calling him a genius. "Sir John Dankworth ‑ a great man and one of our finest musicians and composers has died," he wrote. "Rest in peace sir."

Jazzwise magazine hailed the performer as "one of the totemic figures of British jazz" and said he was the country's "first major jazz musician".
This story appears courtesy of All About Jazz Publicity.
Copyright © 2021. All rights reserved.