Joe Lovano Us Five
,
Folk Art
(Blue Note).
As noted in the Rifftides coverage of the Portland Jazz Festival, the saxophonist's Us Five band is a playground of reaction and interaction among diverse but finely attuned musicians. The ages of the other band members, who include two drummers, no doubt average half of Lovano's. If they provide him inspiration and rhythmic fire, it works both ways. In spirit, the music is based in the post-Coltrane ethos of three decades ago. Lovano's energy, imagination and outsized personality make it distinctive. He dominates, but pianist James Weidman commands attention.

Daryl Sherman, Johnny Mercer: A Centennial Tribute (Arbors).
So, you think you know all of Johnny Mercer? If you can recite the words to "The Bathtub Ran Over Again" and "Here Come the British," you probably do. Ms. Sherman also sings Mercer's lyrics to better-known songs, "Midnight Sun" and "Come Rain or Come Shine" among them. She accompanies herself and plays piano solos, with assistance from Jerry Dodgion, Wycliffe Gordon, Howard Alden, Jay Leonhart and Chuck Redd. Marian McPartland and Barbara Carroll make guest appearances in a collection of 14 Mercer songs splendidly performed.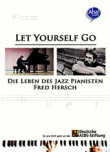 Fred Hersch, Let Yourself Go (Aha!).
This skillful documentary delves into what makes Hersch one of the most distinctive pianists of his generation. It includes generous sequences of his playing and his articulate reflections on music. Among other admirers, his teacher, Sophia Rosoff, discusses the "basic emotional rhythm" that sets Hersch apart. The film also explores Hersch's significance as one of the first major jazz artists to go public about his homosexuality and his infection with the HIV virus. For a six-minute trailer, go here.
Miller Williams, Time and the Tilting Earth (Louisiana).
I have been a committed Williams fan since I first encountered his poetry in the 1960s. This little volume of new poems from late in his career is essence of Williams, a concentration of his brevity, warmth, wisdom, humor and absolute command of his craft. Williams' sense of wonder extends from the inner being to the cosmos. Much of his work suggests that they may be the same thing.
This story appears courtesy of Rifftides by Doug Ramsey.
Copyright © 2021. All rights reserved.