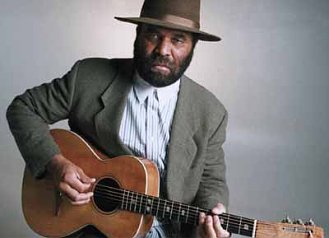 HAUNTING, HYPNOTIC GROOVES FROM ICONOCLASTIC TRANCE BLUESMAN OTIS TAYLOROtis Taylor
isn't defined by any single category. A musical alchemist and a true innovator, Taylor has never been afraid to experiment beyond the blues tradition. He's a master craftsman who has created his own signature "trance blues" style by melding haunting guitar and banjo work, syncopated rhythms and a combination of gruff vocals, shouts and yells with raw passion.
"When I sing, I just do what I do," Taylor says. "Whatever comes out—that's the way I leave it. And if I make a mistake, I leave it in. I like to keep the emotion." Otis Taylor's
Contraband
is evidence of that. Set for release February 13, 2012, on Telarc, a division of Concord Music Group, Taylor's new album finds the artist on familiar thematic terrain: love, social injustices, personal demons and war.
The album takes its title from an article that appeared in the May/June 2011 issue of Preservation Magazine about runaway slaves who during the American Civil War escaped to the Union lines at Fort Monroe, Va. Known as "contraband," they lived in camps where conditions were often worse than life on the plantation.
On
Contraband
, the iconoclastic bluesman is reunited with several longtime collaborators including the supple-toned
Ron Miles
on cornet; pedal steel guitarist
Chuck Campbell
from American Sacred Steel gospel group the Campbell Brothers; djembe player
Fara Tolno
, a master drummer born in Guinea, West Africa; fiddler
Anne Harris
from Chicago, Ill.; and the Sheryl Renee Choir. Bass is handled by Taylor's daughter
Cassie
and
Todd Edmunds
. Rounding out the band are
Jon Paul Johnson
on guitar,
Brian Juan
on organ, and
Larry Thompson
, former house drummer for Colorado's world-renowned Caribou Ranch recording studio.
This story appears courtesy of JamBase.
Copyright © 2021. All rights reserved.