"…beautifully balanced as a gyroscope... music smartly conceived fully realized…if you find a more ambitious and intriguing album this year, tell me." Neil Tesser -Miles Ahead Chicago Radio


Matthias Lupri Group w/Myron Walden
The Regatta Bar, Wednesday, Nov 16, 7:30pm
$18, ($13.50 students) Charles Hotel, 1 Bennett St., Harvard Square, Cambridge, Ma., call 617-395-7757 for tickets. http://www.regattabarjazz.com


Fresh off a summer tour of Canada, Europe and US, including the Montreal Jazz Festival and North Sea Festival and recording a new project for a spring release, modern jazz vibraphonist Matthias Lupri and group with Myron Walden will be performing new music and music from the latest CD release "Transition Sonic" on "Summit Records - DCD 337" which included adventurous electronic trumpeter Cuong Vu(Pat Metheny) and Mark Turner.


Matthias Lupri - vibraphone, Myron Walden, Nate Radley - guitar, Evan Gregor, Jordan Perlson – drums
"Lupri, a migrant from rock drums to jazz vibes, plays fast, loose, and at the top of his game" Fred Bouchard, Down Beat, Dec '03
See the Jazz Talk forum too at:

Catching Up With Matthias Lupri


After a coast to coast tour of the Canadian Jazz Festivals and US dates summer 2002, modern jazz vibraphonist Matthias Lupri returned in the fall with his 3rd CD of original modern compositions entitled "Same Time Twice" on "Summit Records - DCD 337"




"Lupri and company forge a decidedly progressive path on this splendid disc of well crafted originals" Bill Milkowski - JazzTimes

Acclaimed Saxophonist Myron Walden has albums out on the NYC Records and Fresh Sound labels and is a member of the Brian Blade Fellowship (Blue Note). Lupri and Walden were both recently picked in the Down Beat critic's poll as rising artists.

A follow up to "Same Time Twice" (with Mark Turner, Kurt Rosenwinkel, Reuben Rogers and Greg Hutchinson) "Shadow of the Vibe" (George Garzone) and debut "Window Up Window Down", "Transition Sonic" is original jazz with the sweet sounds of the vibraphone and the fresh modern forward thinking players of today's NYC jazz scene; Nate Radley guitar, Thomson Kneeland acoustic bass and Jordan Perlson drums.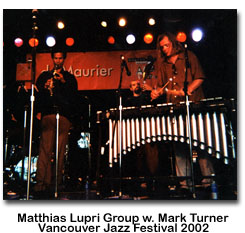 "I find the Matthias Lupri Group exciting and refreshing..... " Jack De Johnette




Music will also be from Lupri's past CD Shadow of the Vibe with George Garzone (Chartmaker Jazz CMG5060).
"Lupri's third album, the splendid Same Time Twice, offers a brace of fresh originals that have an open, now feel" Zan Stewart- Liner Notes
"Vibist Lupri's second album "Shadow of the Vibe" is an absolute jewel..." Larry Nai - Cadence, July 2000


"Lupri emerges as a another musician living up to his considerable potential... on this well -conceived cleanly executed program that comprises Lupri's own attractive compositions." Neil Tesser, Jazziz, Feb 2000
Born in Germany, Lupri grew up in Kansas and Alberta, Canada. He studied drums and began playing professionally as a teenager in blues, rock and country music bands, including Juno winner George Fox. In his early 20's, while studying music in college, he became fascinated with jazz vibraphone music from listening to a recording of the legendary Gary Burton. Lupri recollects, "It totally changed my whole approach to music. For the next five years, while I was still on the road with rock bands, I would practice my vibes every day in my hotel room." Having found a new musical expression with the vibes, he enrolled at the "Berklee College of Music"in Boston to study with his mentor Gary Burton. Lupri's debut CD "Window Up Window Down" (Chartmaker Jazz PDP1020) and "Shadow of the Vibe" both charted in the Top 40 Gavin and Top 15 CMJ Jazz Charts and #7 Chart Magazine Canada.
Recent performances with Greg Osby, Kurt Rosenwinkel, Mark Turner, Greg Hutchinson, Antonio Sanchez, Reuben Rogers, Ian Froman, George Garzone, Jeff Ballard, Rick Margitza, Cuong Vu ...and at festivals in Atlanta, Ottawa, Minneapolis, Providence, Boston, Montreal, Clearwater Florida…

Thanks to Vic Firth Mallets, K&K Sound and the Canada Council for support!
"Look out for promising young vibraphonist Matthias Lupri, a protégé of Gary Burton." -Jazz For Dummies
"An enjoyable slice of advanced modern Jazz."- Al Merritt, UK Jazz London, Jazz Now


" Lupri hits hard on the solos, and comps with warm glow when George Garzone steps out. On "Investion" the power is scary..." - John Barrett -- JazzUSA
Lupri's CD's are available at all major record stores or can ordered online through his website at www.matthiaslupri.com, or "www.cduniverse.com"or www.amazon.com or www.jazzpromo.com,



Reviews:


- AAJ – John Kelman








Same Time Twice ˆ AAJ ˆ Publishers Pick
Shadow of the Vibe - AAJ - Glen Astarita
Shadow of the Vibe - AAJ - Don Williamson,
Same Time Twice - AMG ˆPaula Edelstein

Contact:


Jazz Management
bookings@matthiaslupri.com
www.matthiaslupri.com