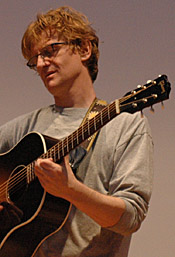 Critically acclaimed singer/songwriter GEOFFREY ARMES' next album, "Inside a Wall," is slated to be released on October 28th, 2010. Now a resident of NYC, the British musician spent the majority of his adult life globe trotting, picking up a wide array of musical and cultural influences, evident in his music. ARMES' work has been described as an enticing fusion of jazz, ambient, electro-acoustic, and world music.
"Multi-colored strands of sound weave a beautiful space; a cathedral of sound a flow of melody and taste that continuously evolves a vibrant world of harmony and ecstasy. In the hands of a master, on many levels stories of longing, loss, an inner journey brought out to the world." ~ CDbaby.com
As a young man living in West Berlin in the 1980s, ARMES kept a journal chronicling his experiences. When he left Germany to continue his world journey, the journal lay hidden, unnoticed, and unopened for almost 20 years. Upon finding the notebook, ARMES was taken aback by the stories of his former life in "a city that no longer exists." Once the Berlin Wall came down, the East and West sides quickly reunited to create a whole greater than the former sum of their parts. These stories became the lyrics of ARMES' new album, "Inside a Wall."
The title was inspired by what ARMES describes as "the strange experience of literally living inside the walls of West Berlin, the only area in East Germany not occupied by the USSR in the 1980s." A keen observer of human nature, ARMES insight into the rapid changes experienced by the city's residents makes for a unique and moving story set to his original music.
The album release party for "Inside a Wall" will be held October 28th at Googie's Lounge (ipstairs at The Living Room), 154 Ludlow Street, NYC, 8PM.
Listen to the first single, "
Sweet Breakfast
."
To arrange an interview, request a CD for review, or press passes to see GEOFFREY ARMES in concert, please contact Ida S. Langsam (
[email protected]
) or Stephen M. Thornton (
[email protected]
) at ISL Public Relations, or call 917-338-6199.
This story appears courtesy of ISL Public Relations .
Copyright © 2020. All rights reserved.