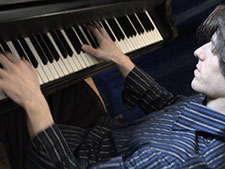 Looking Forward
features eight inspirational original tracks showcasing Ken Berman's distinctive sound as a composer and pianist, leading a dynamic trio including bass virtuouso
Kai Eckhardt
and the phenomenal
Akira Tana
on drums. "When listening to Ken Berman's trio," noted jazz critic Scott Yanow writes, "it is easy to think of Keith Jarrett and Bill Evans, for Berman's chord voicings and his close interplay with his sidemen recall the work of his two predecessors. The difference is that Berman wrote all selections, he never copies Evans or Jarrett, and at times he sounds more advanced than either of them."
Le Monde
hailed Ken Berman as a "fluid and erudite" composer and performer whose "complex improvisations are imbued with delicate sensuality and brilliance."
Looking Forward
at once brings to mind the classic trios of Pat Metheny, Keith Jarrett, and Bill Evans while at the same time maintaining a completely fresh and inimitable modern sound.
Ken Berman has appeared on the famed stages of Carnegie Hall in New York, Yoshi's in San Francisco, the Museum of Fine Arts in Boston, Detroit's Fox Theater, The Hertz Concert Hall in Berkeley, and The Sunside in Paris. He has performed and recorded with Kai Eckhardt, Akira Tana, Bob Moses, Yoron Israel, John Lockwood, Bob Gullotti, Jaleel Shaw, Take Toriyama, and others. His work has been the subject of radio features on radio stations KCSM in San Francisco, KPFA in Berkeley and KZSU in Palo Alto: his last release In Mind was ranked among the top 15 jazz releases of 2006 on the "Jazz With Bob Parlocha" website and was playlisted at jazz radio stations in the United States, Europe and Japan. Ken Berman, on the faculty of the Music Department at the UC Berkeley, and also teaching at Stanford University, performs at the best venues on the West Coast.