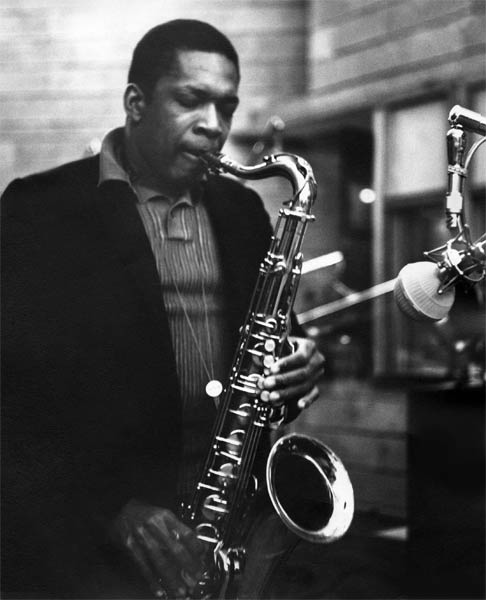 Concord Music Group will reissue a remastered and expanded edition of John Coltrane's
Afro Blue Impressions
album on August 20, 2013. Enhanced by 24-bit remastering by Joe Tarantino, three bonus tracks, and new liner notes, the new reissue celebrates the 40th anniversary of Pablo Records, the jazz label founded by Norman Granz in 1973.
The story of Pablo Records is a story of one veteran producer's return to the music he loved best. Norman Granz, founder of Jazz at the Philharmonic, so missed the recording aspect of the music business — which he'd abandoned in 1962 when he sold his Clef, Norgran, and Verve labels to MGM — that a little more than a decade later he decided to take the plunge and start up yet another label. Based in Beverly Hills, California, at the time, Granz secured a distribution deal and launched Pablo Records in 1973, quickly building a world-class catalog of albums by legendary artists
Ella Fitzgerald
,
Joe Pass
, and
Oscar Peterson
— all of whom Granz managed — as well as
Count Basie
,
John Coltrane
,
Duke Ellington
,
Dizzy Gillespie
,
Art Tatum
,
Sarah Vaughan
, and many others. After releasing more than 350 albums in a span of less than 15 years, Granz sold Pablo to Fantasy in 1987, which in turn merged with Concord Records in 2004 to form Concord Music Group.
Afro Blue Impressions
represents an anniversary within an anniversary. By the time Granz launched Pablo in 1973, he'd already stockpiled several years worth of previously-recorded tour performances in his vaults, including these sets from Stockholm and Berlin in late 1963 (October and November, respectively). This new two-disc reissue of the classic Coltrane Pablo album — originally released as a double LP in 1977 — arrives just a few weeks ahead of the 50th anniversary of the original concerts.
Coltrane fronts a stellar quartet on both European dates that includes
McCoy Tyner
on piano,
Jimmy Garrison
on bass, and
Elvin Jones
on drums. In addition to the nine tracks that appeared in the original Afro Blue Impressions double album, the reissue also includes three bonus tracks from the Stockholm date: "Naima," "I Want To Talk About You," and "My Favorite Things."
"When you compare and contrast the performance of a composition that was released on the original album to a different performance of the same composition from among the bonus tracks," says
Afro Blue Impressions
reissue producer Nick Phillips, "it perfectly illustrates just how restlessly creative Coltrane and his band were. Each song was a springboard for unpredictable improvisation and boundless creativity."
"These tracks brim with the wonder and the power of discovery," says Neil Tesser, author of the new liner notes accompanying the reissue. "At this juncture, the Coltrane Quartet existed in a state analogous to quantum mechanics . . . Each new performance yielded new insights. As the musicians gathered this data and sifted through it, they would arrive at the polished theories underlying the eventual masterworks to come, such as the album
Crescent
and the monumental suite
A Love Supreme
— achievements that would then launch a new age of chaotic discovery, on such albums as
Om
,
Sun Ship
, and
Meditations
. How much those recordings will resonate on their 50th anniversaries will likely engender some controversy; Coltrane didn't live long enough to complete the journey that began with them, and the jury remains out, even decades later, regarding the impact of that work. But history long ago weighed the import of his work in 1963, when his music stretched and struggled its way toward becoming Coltrane's iconic stylistic statement."