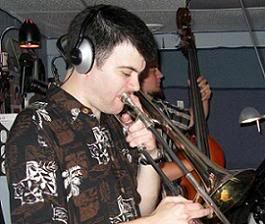 Jay T. Vonada, of Aaronsburg Pennsylvania, will have his debut CD, Jammin', released on Tuesday July 22, 2008.

Vonada, who is a musician in the central region of Pennsylvania, plays in several bands. They are all diverse in their musical styles. Although music is not his full time profession, he spends hours practicing and performing in a variety of settings, from pit orchestras, to jazz combos, to big bands. The CD will feature 8 original compositions, from Swing to Latin to Funk.

The band features local talent from the centre region: Adam Kurland on keyboards, Jacob Hibel on Bass and John Sullivan on Drums. Both Jay and John are graduates of Penns Valley Area High School.

CD's can be purchased through Vonada himself, starting July 22, or CD Baby starting sometime in August.

Jay Vonada, from Aaronsburg, made all-state band in his junior and senior years of high school, and went to all-eastern band in his senior year. Jay won the John Philip Sousa Award as a senior. He attended Mansfield University in the fall of 1993, studying jazz improvisation with Dr. Michael Galloway for one year and jazz arranging for one semester. He was lead trombonist and featured soloist with the "Mansfield University Jazz Band" for four years, where they performed at the PMEA, MENC, and placed third at the Villanova Jazz Festival in 1994. Jay played with jazz saxophonist Bob Mintzer at the Mansfield University Jazz Festival, and also performed with Mansfield alumni Neil Slater, who is currently director of the "One O'clock Lab Band" at the University of North Texas. In 1999, Jay won a scholarship to study at the Berklee College of Music.

Since leaving College, Jay has performed at his high school with the jazz band, in the pit orchestra for Penns Valley High School from 1999-2001, for the Bald Eagle Area High School from 2002-2004, for "Singing On Stages'" production of Dream Girls in 2006 and Oliver in 2007, and trombonist with the "Valley Jazz Orchestra" from 2004-2007, trombonist with "Jazz Innate", an octet from 2003-2005. He has played with Greg Johnson's "Jazz Monsters" and "Punk Jazz" and has played at the monthly "Jazz Jam at Sozo's" in State College. He was also the Lead Trombonist with the "Keystone Society of Swing Big Band". He plays in a trombone quartet called "Trombone Chowder", and a newly formed five trombone and rhythm jazz group, "Slide Zone", and also plays in a newly formed sextet "Liquid Jazz".

Vonada's personal jazz improvisational style is grounded in the bebop tradition of Charlie Parker, Dizzy Gillespie and J.J. Johnson. Since discovering Jazz in 1995, he listens to the masters through recordings and live performances, as he believes it's the only way jazz can be taught. He has over 500 CDs of the jazz masters, mostly trombonists. JJ. Johnson, Curtis Fuller, Carl Fontana, Frank Rosolino, Slide Hampton, Ray Anderson, Conrad Herwig, Steve Davis, Hal Crook, etc. Transcribing their solos or just learning them by ear is how he is developing as a jazz player.
This story appears courtesy of All About Jazz Publicity.
Copyright © 2020. All rights reserved.