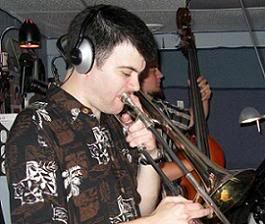 Trombonist Jay T. Vonada from Aaronsburg, Pennsylvania makes an elegant entrance into the world of recorded music with an audacious debut release of Jammin, just the kind of stuff that one needs to get noticed.
Without a star-studded cast of players Vonada crafts a very fine first effort using local talent producing a nice result. His quartet includes Adam Kurland on keyboards, Jacob Hibel on bass and John Sullivan manning the drums.


The album features eight boppish originals ranging from Swing, Latin to a bit of jazz funk. Unlike some albums where the leader is just one of the guys who takes his turn on solo, Vonada plays a prominent role here taking lead and rarely relinquishes it to the other band mates. Kurland performs the majority of the other leads with his play on the keyboards and the organ. The short program opens up with A Blues a brisk blues-colored number then gives way to the rich melody of Three Tons where Vonadas full-toned playing shares the stage with Kurlands piano dance and steady bass lines from Hibel.


Anthracite is your swinging jazz number delivered in up-tempo lively spurts containing quick-paced solos from the trombonist. Adding a little of the Latin tinge to the music, Vonada blows a spicy bone on Alea one of the several delicious treats here. You cant have an album without one ballad piece and Vonada is just marvelous on the slow and soft Rose Ann, a heart-warming sensitive chart. Theres the meaty bop- infused Red Ash and rich Mina where Kurlands play on the organ is particularly pleasing and the funky finale of Funk n Blues punctuated by drummer Sullivans beats as Vonada weaves the tune through Kurlands fine organ dance.


Jammin seems a very appropriate title for Jay T. Vonadas debut release for in many ways the music does come across like a jazzy jam session in a smoke-filled room of a jazz club and thats made as a compliment not a criticism for some of the best jazz you may ever here will be in one of these places.


By: Jean Timmons(jazzchicago.net)


Trombonist Jay T. Vonada composed and arranged all the selections on Jammin', his debut recording, which he has also produced. His resume thus far reflects an ambitious serious musician who had decided to become a jazz artist. From John Philip Sousa Award winner in high school to college bands and jazz festivals, Vonada has been putting in the time and making connections with more seasoned players. His sidemen on this music, also from central Pennsylvania, are Adam Kurland (keyboards), Jacob Hibel (bass), and John Sullivan (drums).


For influences, Vonada has acknowledged that his studies and improvisational style keyed on Charlie Parker, Dizzy Gillespie, and J. J. Johnson. Jammin' is straight ahead jazz. There is a clear sense of direction in each composition and the musicians swing well together. Sullivan and Vonada have known each other since high school. Each player holds his own in solos and, as for Vonada, he is already beginning to sing with a trombone, no mean feat. On "Anthracite" he floats on air and brings the band, particularly the pianist, with him. It's a sweet band; and the up tempo, cleverly written compositions, such as "Three Tons," "Red Ash," and "Mina," feel particularly well suited to them as is the jazz ballad, e.g., the simple and sweet "RoseAnn." On the other hand, a few more years of jazz playing will prepare them to handle the blues. A little gem in the rough. Vonada is a jazz musician to watch.


By: Tony Rogers(jazzcdreviews.com)


From seemingly out of nowhere comes trombonist Jay Vonada, a native of the central Pennsylvania town of Aaronsburg. He won a scholarship to study at the Berklee College of Music and has played with such jazz luminaries as sax man Bob Mintzer and vocalist Catherine Dupuis. But his debut debut CD, "Jammin," is a homegrown, self- produced affair, and it's a winner.


"Jammin'" is comprised of eight tunes composed by Vonada, a J.J. Johnson-influenced player who clearly favors a straight-ahead style with tinges of Latin and a little funk. Things get started with the simply titled "A Blues," which features a nicely swinging solo by Vonada accompanied by bandmates Adam Kurland on keyboards, Jacob Hibel on bass and John Sullivan on drums. What's compelling here is the easygoing groove and relaxed interplay between the musicians. A real highlight is Kurland's playing on what sounds like a Fender Rhodes electric piano, giving the whole affair a bit of a '70s, Vince Guaraldiesque feel.


Next up is "Three Tons," a slightly more uptempo number that again leads off with a nimble solo by Vonada, followed by a subtle but compelling turn by Kurland, this time on acoustic piano. Quicker still is the next track, "Anthracite," in which Hibel and Sullivan get to strut their stuff as a more-than able rhythm section driving the beat behind Vonada and Kurland. Perhaps the best track is "Mina," which features Kurland on a Hammond B3 organ. The upbeat melody, like all of Vonada's tunes, is deceptively simple, but somehow, in combining the B3 and Vonada's trombone, the group finds a sound that is fresh and uniquely its own.


The tracks here are short; most clock in at around four minutes. But that's all the time Vonada and his bandmates need to get their message across: They may be from the hinterlands of Pennsylvania, but these guys know how to play.
This story appears courtesy of All About Jazz Publicity.
Copyright © 2020. All rights reserved.