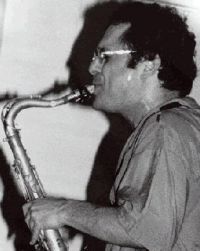 Sao Paulo-born tenor man Ivo Perelman assembles a whack jazz quartet that rivals in star power to
the foursome David S. Ware recently assembled with William Parker, Cooper-Moore and Muhammad Ali.
But Perelman's six improvised performances with Matthew Shipp (piano), Joe Morris (acoustic bass) and Gerald Cleaver (drums) come off much better. With this being free jazz, it's often hard to pinpoint why, but perhaps Perelman found a more inspired combination that day. It certainly sounds that way on the day they recorded The Hour Of The Star.

Perelman, whose tone is a powerful convergence of Coleman Hawkins (especially on "Singing The Blues"), John Coltrane, Gato Barbieri and Albert Ayler, went outside his normal comfort zone in bringing in a pianist, but Shipp is experienced and even at his best under these conditions: he first gained recognition in Ware's quartet, after all. Cleaver is at the peak of his powers, able to take his place alongside the front line players and feel precisely the ebb and flow of a song. But Joe Morris gets my MVP vote here. He might start from Charlie Haden school of whack jazz bass, but he's far more fearless, utilizing the entire range of the instrument and moving around as fluidly as a guitarist, which he is.

Perelman leads the full quartet through "A Tearful Tale," where Shipp shows off his deftness in finding the spaces left behind by the saxophonist, and Morris and Cleaver form a solid wall of pulses that never threatens to overpower the song. "The Hour Of The Star" is tension and release, release, release, while "The Right To Protest" is a one-on-one delicate dance between Perelman and Shipp. The Shipp-less "Singing The Blues" is a great, abstract blues exercise, as Morris and Cleaver make the groove swing and Perelman makes old school noises that single-handedly bridges together generations of jazz.

Summit meetings of this magnitude rarely live up the promise, but despite that fact that these four hadn't all played together before, Perelman had faith that these guys would fit together well and his bet paid off big dividends.

The Hour Of The Star was released July 12 by Leo Records.
This story appears courtesy of Something Else!.
Copyright © 2021. All rights reserved.