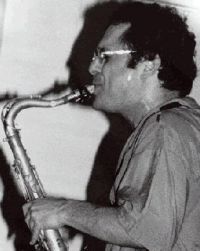 "...One might fear that tenor saxophonist Ivo Perelman may begin to repeat himself. To put it succinctly—not a chance." – All About Jazz

For most artists, the chance to mark the silver anniversary of a recording career – as the tenor saxophone marvel Ivo Perelman does on his new album, Reverie – would involve a look back at the various styles and milestones that have marked the last quarter-century. It would perhaps include the participation of guest artists who have contributed to that period (during which the Brazilian-born Perelman has released more than 50 albums under his own name). A 25-year anniversary offers the chance for all sorts of majestic efforts to tie together that period with the advantage of hindsight.

But Perelman is an artist who keeps his sights trained on the steps ahead, not the path behind, and accordingly, his silver-anniversary recording features him in tandem with an artist he had never played with before, and in fact had never met until just before their studio session. As Grammy® Award-winning jazz authority Neil Tesser writes in the liner notes to Reverie: "If you were expecting a grand retrospective, a summation of all the artistic threads and spikes of the preceding quarter-century, you've come to the wrong guy and the wrong place. Ivo doesn't do nostalgia."

And Perelman doesn't trade in the comfortable or conventional, either, as shown by his decision to record this album with Karl Berger, the storied pianist, vibraphonist, composer, and musical activist, whose Creative Music Workshop – founded with Ornette Coleman in 1971 in Woodstock, New York – has remained a magnet for musical iconoclasts and visionary artists to this day. But despite Berger's history of championing transformative ideas and innovative techniques – two phrases that accurately describe Perelman's own work – the two had never met, or even spoken, until plans for Reverie got under way. Berger had heard Perelman's name, but never his music; for his part, the saxophonist had once heard a Berger recording, and was well aware of his place in the development of modern music. Still, he had never considered teaming up with Berger until, he says, "I was talking to another musician, and he mentioned being a big fan of Karl Berger, and so I got in touch with him to talk about a couple of projects. These things didn't all work out, but we did get the duo happening."

"Happening" doesn't begin to cover the level of interaction and synergy that marks Reverie. The album is, if not unique, then certainly quite unusual among the spate of albums that have marked Perelman's current creative burst (during which he has released nearly 20 titles in this decade alone). Reverie juggles and re-orders the elements that make up any Perelman project. These include the hyper-expressivity and expanded technique of his tenor playing, with its controlled excursions into other-worldly registers of the instrument that most other saxophonists visit only for haphazard effect; his ability to transform the instrument into either a gruff and guttural warrior or a transcendent poet; and the split- second switchbacks from mood to mood and tempo to tempo that can only arise in an atmosphere of total freedom. (As is always the case with Perelman, he entered the studio without any written music or even a pre-session discussion about where each improvisation might lead. In fact, he and Berger met for the first time at the studio, says Perelman: "I shook his hand five minutes before we went to record.")

It is Berger's presence, and his philosophy of performance, that re-orders these elements into an unusually spacious Perelman album. In comparison to the pianists Perelman has worked with in the past, he explains, "Karl is more 'European' – more romantic, I think you can say – and so I'm not playing my usual 'fire-breathing.' The music asked for something else. And I'm a slave of the music – a conveyor of the emotions that are happening."

The "European" aspect that Perelman refers is a lyricism grounded in Berger's use of space, and it elicits a serene centeredness in the saxophonist's own playing – a phenomenon that Berger himself is well aware of. "People can much more strongly express their individuality if they're looking not just at what they play, but at what they don't play," Berger points out. He anticipates a further evolution of this interplay: "My feeling with Ivo is that there's a grand potential for him to go further even than in this album. I'm looking forward to arriving at another place with him. If you really edit yourself down to the essentials, it brings the listener in. If you leave silences for the listener to play in their own mind, it answers what you do; if you leave more and more space, then more and more the listener can come back and react, and feel closer."

"Active and passive – the meeting of two minds that are open and humble enough to cover each other's lexicon," Perelman says of this date. "And I know Karl was very happy about it, too: he was dancing in the studio." By allowing Berger's relative minimalism with his own expansive "fire-breathing," Ivo Perelman has produced one of the most unusual and accessible albums in his monumental catalog – a startling (but typically iconoclastic) way of launching the second quarter- century of his recording career.

Born in 1961 in São Paulo, Brazil, Perelman was a child prodigy on classical guitar; entranced by the cool jazz saxophonists Stan Getz and Paul Desmond, he soon moved to the tenor saxophone. Entering the famed Berklee College of Music in 1981, he first studied the mainstream masters of the instrument, to the exclusion of such pioneering avant- gardists as Albert Ayler, Peter Brötzmann, and John Coltrane – all of whom would later be cited as precedents for Perelman's own explosive and ear-stretching technique. Within two years, however, Perelman found his studies confusingly unsatisfying; leaving Berklee, he moved to Los Angeles, where he discovered his penchant for post-structure improvisation. At jam sessions, he recalls, "I would go berserk, just playing my own thing." Emboldened by this approach, Perelman began to research the free-jazz saxists who had come before him, arriving at a more nuanced understanding of his place in this lineage.

In 1989 Perelman recorded the first of more than 50 albums now under his own name, featuring a number of mainstream and Brazilian jazz musicians, and a program comprising traditional Brazilian folk melodies. But even then, he recalls "moments of real free playing, and I decided I liked it." In the early 90s he moved to the more inviting artistic milieu of New York, where he lives to this day, often working with in a small coterie of collaborators that include pianist Matthew Shipp, bassists William Parker and Joe Morris, drummer Gerald Cleaver, and violist Mat Maneri. In recent years, Perelman has undertaken immersive study of music written for the natural trumpet – the instrument used before the invention of trumpet valves – so as to apply techniques used on that instrument to gain even more command of the squeaky-high altissimo range, of which he is already the reigning master in modern music.

Perelman, who is also an internationally recognized (and collected) visual artist, is in the midst of what he has called a "creative frenzy" during which he has released 17 albums since 2011, almost all of them on the Leo Records label.