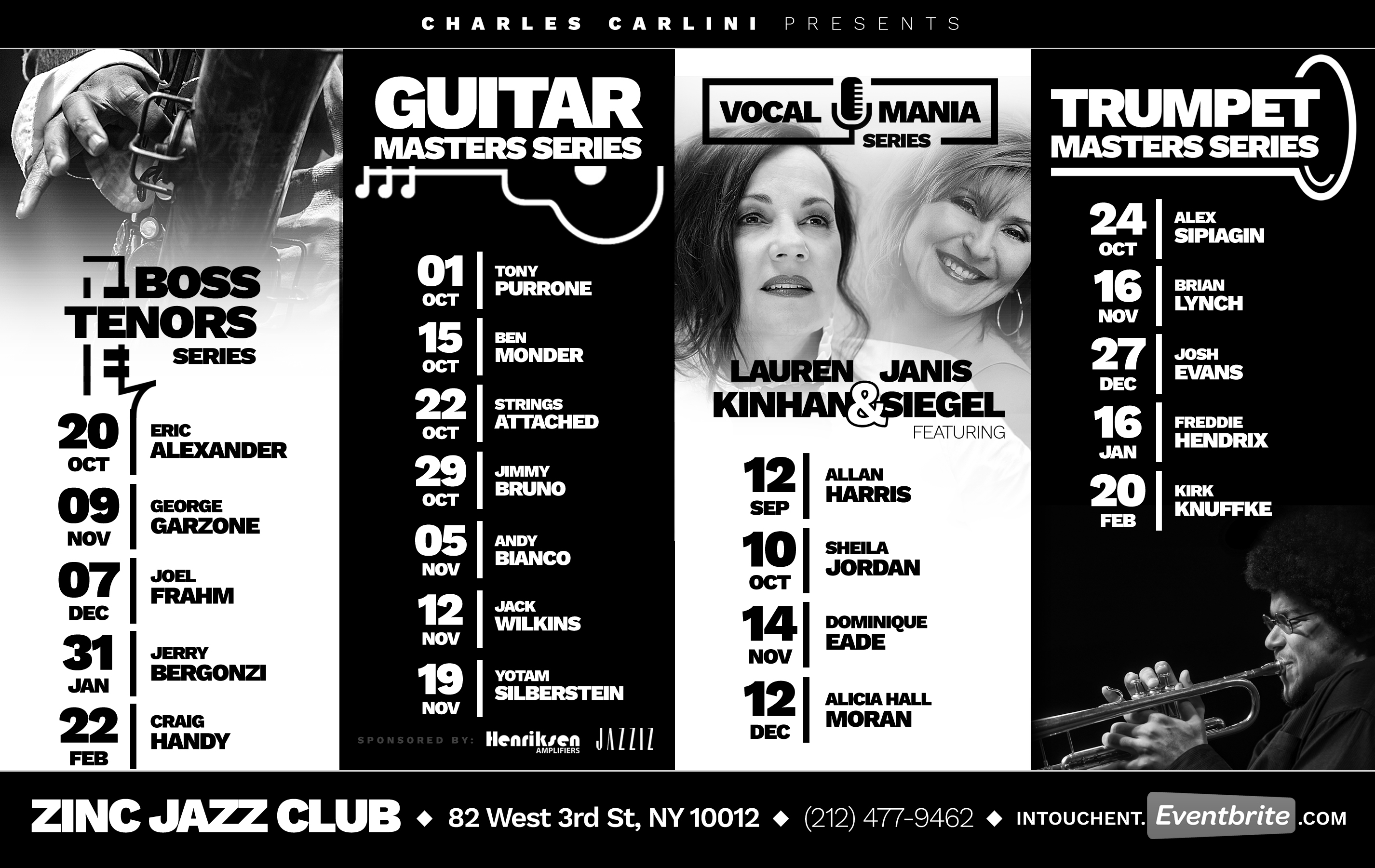 In Touch Entertainment has announced the Fall/Winter lineup of its highly successful jazz series held in a legendary New York music venue, Zinc.
The programs consist of Piano Jazz, Guitar Masters, Trumpet Masters, Percussion Masters, Boss Tenors, Dangerous Rhythms, and Vocal Mania. The latter is also running concurrently on the West Coast, with performances held at Vitello's Jazz and Supper Club in Studio City, CA.
In addition to instrument and voice-centric programs started this spring, In Touch also launched a Latin jazz series curated by bestselling author and Latin jazz enthusiast T.J. English.
All these performances will continue to be a regular feature at the Zinc throughout the fall and winter months.
"These programs have met with such enthusiastic response from our audiences because each one features world-class musicians," said In Touch's CEO, Charles Carlini.
"Given the rich repertoire of our fall/winter series, we are confident they will continue to be very successful," he added.
Some of the artists featured in these series include:
The choice of Zinc Bar, an iconic club located at 82 W 3rd St in Greenwich Village, was not coincidental. "I've had a long association with the Zinc jazz club since its inception in the early '90s. I felt it would be a great venue to launch and test many of these ideas that I've been incubating for some time. Plus, its present location was once a place called Club Cinderella, where
Billie Holiday
and
Thelonious Monk
used to perform and attracted such celebrities as Mae West and
Frank Sinatra
."
Other performances are listed
here
.
Vitello's is at 4349 Tujunga Avenue in Studio City.
About In Touch Entertainment
NYC-based In Touch Entertainment is a worldwide entertainment organization that manages both established and up-and-coming recording artists, books talent into the world's hottest venues, oversees music recording, and promotes and produces concerts and films.