When it comes to promoting a show or event, email is your best friend, as it still yields a higher return on investment than many forms of promotion. For emails to be effective, however, they need to grab readers attention. Here we look at how.
Guest post by Tamisha McQuilkin from the Eventbrite blogTamisha McQuilkin, the Program Manager for Technology Partnerships at MailChimp.
Email is the event marketer's not-so-secret weapon. It's incredibly rewarding when done well, with a $44 return for every $1 spent. But with pretty much everyone doing it, your 
emails have to be attention-getters
 to make an impact.
The Hustle is a brand that just 
gets 
email marketing. Billed as "your smart, good-looking friend that sends you an email each morning," The Hustle sends its fans daily emails with cheeky, smart writing.
The company also hosts a one-day startup conference in Oakland, California, called Hustle Con. Here, the founders of fast-growing companies come together to tell their origin stories and offer inspiring tips and advice to aspiring entrepreneurs. Naturally, The Hustle promotes Hustle Con in the way it knows best: email marketing.
Kera Zacuto, Director of Events at The Hustle, infuses everything she does with a creative personality. In promoting Hustle Con, she's willing to take risks with her messaging in order to grab her audience's attention, and she does it in an authentic, disarming way. And the recipients notice—one sent this recent message of appreciation.

You might not get letters of praise from your fans, but emails with vibrant, original personality will certainly drive more ticket sales. Here's Zacuto's guidance to make your emails this engaging.
Be conversational, but smart
The best emails are approachable. Use casual language, not industry jargon. "Incorporating a casual, conversational tone in all emails is essential for me," Zacuto says. "From the subject line and greeting, all the way to how I sign off, a friendly and approachable tone is a key part of my strategy."
If you're not sure how your email sounds, read it out loud before sending.
Be memorable, but be yourself
When in doubt, go with the information that will grab attention. Zacuto's advice for event marketers: "Maybe that means introducing themselves, maybe that means cutting out some boring marketing language to make room for more memorable verbiage."
She adds: "My advice to anyone looking to have a more successful email marketing campaign is to incorporate their personality into their writing." Be yourself — the most memorable version of yourself.
Be creative, but be consistent
Yes, creative copy and design grab attention. But if you're too focused on being original, you might lose 
your branding 
along the way.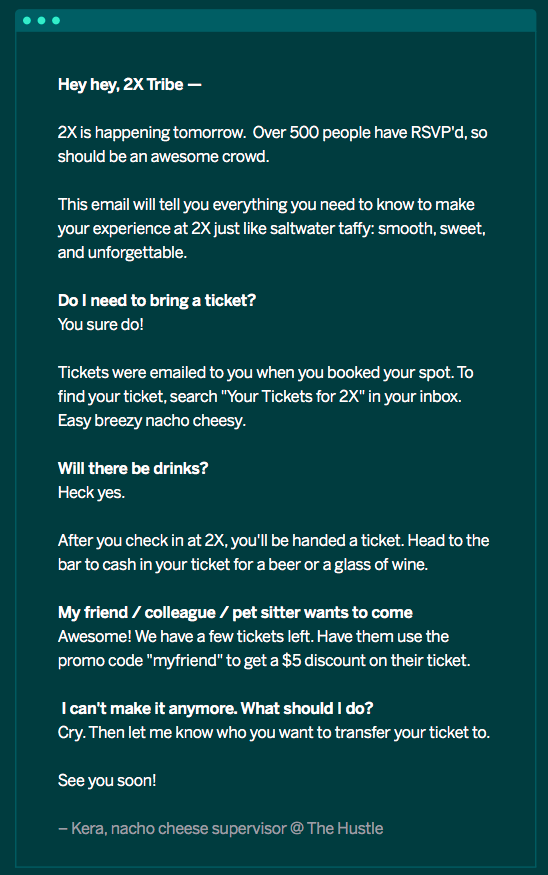 "Strong branding is key when trying to build a loyal audience," says Alex Kelly, Front-End Developer at MailChimp. "Instead of copying what others are doing, you should design and build things that feel like your brand. Being consistent is more important than being trendy."  
Think beyond the ticket sale
Zacuto doesn't just use email marketing to sell tickets. Even after attendees have made a commitment, she strategizes how to keep them engaged up until, through, and after the event. "Even if they drop $30 or $250 on a ticket, there are folks who will get sidetracked and not show up to an event they paid money to attend," she says.
More people at the end event means more energy, more people potentially signing up friends last minute, and more social media chatter. So she uses email to build a buzz in the weeks leading up to the event. Here's an example of an email she sent out the day before an event.
Zacuto has also experimented with sending day-of reminder emails, which have proven to increase the attendance rate by 15%.
To read more about Hustle Con's email marketing strategy, and the stories of other brands killing it with email marketing, read 
Creative Event Email Examples: Success Stories from Top Event Brands
.
This story appears courtesy of HypeBot.
Copyright © 2021. All rights reserved.