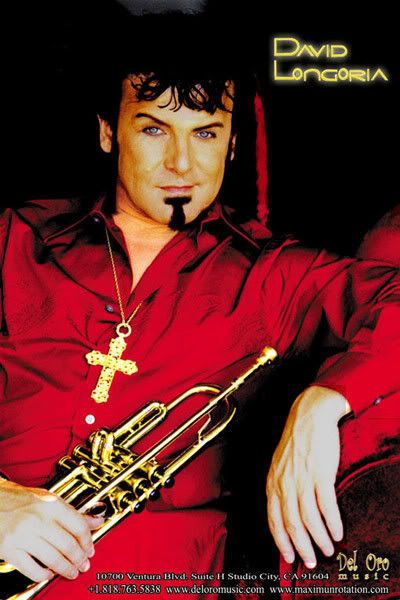 International Latin Trumpeter and recording artist David Longoria will appear and perform at Level 3 Nightclub at Hollywood Highlands as guest star to launch Hollywood's Brazil Carnaval week on Monday, March 7th, 8pm.

Hollywood, CA—David Longoria will debut his Latin infused Dance single Zoon Baloomba live on Monday, March 7th to launch Hollywood's celebration of the traditional Brazilian Festival Carnaval at 8pm at Level 3 Nightclub, Hollywood Highlands.

Accompanied by the Brazilian show band Brasil Brazil, Longoria is scheduled to play the instrumental piece live and will feature Hollywood dancers Ivy Sampson and Michael Zepeda and others in colorful costumes.

"I am excited to bring the new song to Hollywood's Carnaval launch," Longoria says. "It's got a Latin ballroom feel along with some jazzy current club music to it. Also I don't often get to come in and do a featured guest spot so this will be fun!" Longoria has been recognized as one of the world's top trumpeters, awarded the Hollywood Music Awards' "Best Instrumental Performer" award and recently The American Society Of Young Musicians "All That Jazz" award. His dance pop song Deeper Love, featuring singer Cece Peniston reached #14 on the Billboard Dance chart. Baila! Starring David Longoria is a TV concert Special airing on PBS stations in April and May 2011. Longoria's forthcoming single release Zoon Baloomba premieres this month on US radio stations and will be available on iTunes and other download stores on Tuesday March 22nd.

Following his performance, Longoria will introduce celebrity choreographer and dancer Daniela Brazil for her concert and dance which will fill the rest of the evening. Brazil (the dancer) is known for her elaborate traditional dance performances and will be supported by a host of beautiful samba dancers, gogo dancers and a full Latin band called Brasil Brazil, led by singers Sonia Santos and Ana Gazzola.
This story appears courtesy of Universal Music Group.
Copyright © 2020. All rights reserved.