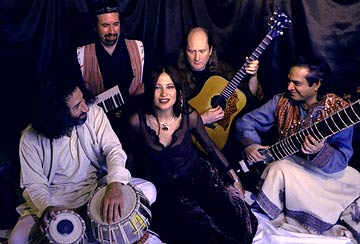 July 26, 2011, Radio Add Date Announced for the Digital Release of this Classic 1990 Recording by Ancient Future featuring Tabla Master Zakir Hussain
On June 7, 2011, the exact
lineup
of Ancient Future that performed on the band's influential
World Without Walls
and
Asian Fusion
recordings reunited to perform for the first time in over 15 years at Yoshi's San Francisco and other venues. That same day to celebrate the reunion, Capitol/EMI Records released the first ever digital version of Ancient Future's classic 1990
World Without Walls
recording. It is available now for download purchase at all major digital retailers such as
iTunes
and
Amazon.com
.
As its name suggests,
World Without Walls
by
Ancient Future
depicts a musical world without borders. This classic 1990 recording features Ancient Future members Matthew Montfort (bandleader, guitars), Jim Hurley (violin), Doug McKeehan (keys), and Ian Dogole (percussion), plus special guest performances by world music legend and tabla master Zakir Hussain. The inviting melodies and ingenious use of ethnic textures make
World Without Walls
one of Ancient Future's most accessible and broadly appealing releases ever.
The first video for the release is a live version of Montfort's '14 Steps,' a jazzy romp with a funky fourteen beat Indian groove. It was recorded on June 7, 2011, at Ancient Future's 'World Without Walls' Reunion Concert at Yoshi's San Francisco, and is available for viewing at
http://www.youtube.com/watch?v=Ro0VAo7a9BY
.
Digital promo including audio is now available to the media upon request. Reviewers should contact Ancient-Future.Com Records at
[email protected]
. Radio programmers are encouraged to visit
http://airplaydirect.com/music/AncientFuture
for broadcast files. The radio add date is July 26, 2011, for reports to the CMJ New World and Zone Music Reporter charts.
Tabla master Zakir Hussain
Ancient Future Band Biography
BILLBOARD calls the group "trendsetters" for contributing to the emerging movement known as world fusion music, a term Ancient Future leader Matthew Montfort coined at the band's inception for music that blends musical ideas from many different cultures. Formed in 1978, Ancient Future is the world's first and longest running ensemble dedicated exclusively to the mission of the creation of world fusion music. Their original music is an exhilarating fusion of exciting rhythms and sounds from around the globe that combines contemporary jazz and rock with the irresistible rhythms of African, Balinese, Indian, Middle Eastern and South American percussion, the rich harmonies of Europe, and the beautiful melodies of Asia.
In the years since the initial CD release of
World Without Walls
, Ancient Future has expanded from its core lineup through collaborations with noted masters of various world music traditions who are now an integral part of what is today more than just a band. Ancient Future has grown to become a large chamber ensemble of more than thirty performers from around the world with over a dozen smaller ensembles within it, enabling Ancient Future to realize its core mission of creating world fusion music
Personnel:
Matthew Montfort (scalloped fretboard guitar, steel string guitars, electric guitars, classical guitar, guitar synthesizers, mandolin), Jim Hurley (acoustic violins, Zeta electric violin, steel string guitar), Doug McKeehan (piano, synthesizers), and Ian Dogole (dumbek, talking drum, congas, bongos, udu, shaker, bass drums, cymbal, sleigh bells, kendang, kajar, ceng-ceng, bells, chimes), Zakir Hussain (tabla, kanjira), Gary Brown (fretless electric bass), Jeff Narell (steel drums), Vince Delgado (tambourine), Jack Dorsey (drum set), Bill Douglass (acoustic bass, Chinese flutes), and Bruce Kaphan (recording engineer, shaker).
Track List:
(
audio
. Listen to songs and excerpts.)
Lakshmi Rocks Me (Jim Hurley. 2:52). Sample MP3 (excerpt) (992K). (1:01).
Dance of the Rain Forest (Matthew Montfort. 4:45).
April Air (Doug McKeehan. 3:57).
14 Steps (Matthew Montfort. 4:30). Sample MP3 (excerpt) (1MB). (1:07)
End of the Beginning (Matthew Montfort. 5:15).
Turkish Taffy (Doug McKeehan. 4:55).
Alap (Matthew Montfort. 1:10).
Indra's Net (Jim Hurley. 4:53).
Nyo Nyo Gde (Matthew Montfort. 4:00).
Gopi Song (Doug McKeehan. 7:46).
Quotes

"World Without Walls speaks to a cultural enrichment...a melding of world culture with Ancient Future's own lush sense of melody and rhythmic drive."—John Diliberto, Jazziz (Nov 91)

"Ancient Future masterfully blends cultural music with contemporary rock and the result is superb. For those who have a taste for exquisite instrumental, you will not be disappointed with this addition to your library. Ancient Future has a great following and for just cause. It is clear that Matthew Montfort's intense studies of cultural music shines and his artistic blend of old world instruments and modern technology shatters esoteric stereotypes. Ancient Future's music is as intense as history itself, yet none less than simple pleasure to play."—Donald A. Thomas, Jr., Revolutionary Concepts (December 90)

"The matrix of panpipes in 'Dance of the Rain Forest' is what would've happened if Steve Reich were Quechua, and the dumbek in 'Turkish Taffy' is fiery enough to induce spontaneous belly dancing. Extra credit to Zakir Hussain, whose tabla playing lends legitimacy to the Indian airs. Basically this is Shadowfax with teeth."—Michael Bloom, Boston Rocks (April 91)