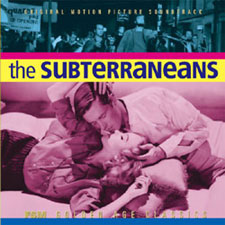 Film Score Monthly
, a specialty magazine and CD label about movie soundtracks, has released Andre Previn's classic soundtrack
The Subterraneans
(1960), courtesy of Turner Classic Movies Music, in a new expanded edition restored from the original master tapes.
The Subterraneans (1960) was an attempt to package the Beat generation for mainstream consumption. Based on the novel by Jack Kerouac, the film is best known for its progressive jazz soundtrack -- one of the all-time best -- by Andre Previn.
Previn assembled a world-class roster of jazz artists: Gerry Mulligan (who also acted in the film), Carmen McRae, Shelly Manne, Red Mitchell, Buddy Clark, Dave Bailey, Art Pepper, Russ Freeman, Bill Perkins, Bob Enevoldsen, and Jack Sheldon. Previn himself appeared on-screen performing with The Andre Previn Trio, and composed an underscore that married his jazz "source cues" (coming from a visual source within the movie) with the romantic aesthetic of the Hollywood symphonic style.
The Subterraneans was released on LP at the time of the film. Film Score Monthly's new CD presents the definitive Subterraneans soundtrack (largely in stereo, except for certain selections recorded in mono) running over 79 minutes: the original album program followed a new program of bonus selections, containing all of the previously released music and much more.
The CD is a limited edition of 3,000 units only. The release will be available in stores later this year, but is on sale now directly from FSM via mail order.
Film Score Monthly, in addition to being the leading magazine about film scores, has released over 100 vintage film and television soundtracks lovingly restored from the original masters. Numerous titles feature the screen work of jazz composers and arrangers such as Nelson Riddle, Johnny Mandel, Jerry Fielding, Earle Hagen, "Johnny" (later John) Williams and Don Ellis, as well as legendary Hollywood composers such as Bernard Herrmann, Miklos Rozsa, Elmer Bernstein, Jerry Goldsmith and Alfred Newman; the releases also showcase the fine playing of Hollywood session musicians.
This story appears courtesy of All About Jazz Publicity.
Copyright © 2020. All rights reserved.