Evening Star Records is pleased to announce the release of
Everything I Love,
a newly recorded CD by saxophonist-composer-arranger Bill Kirchner.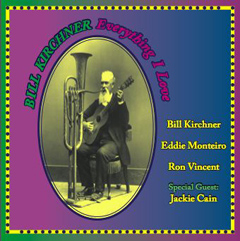 The CD features Kirchner on soprano saxophone, Eddie Monteiro on MIDI-accordion and vocals, Ron Vincent on drums and percussion, and on two tracks, the legendary vocalist Jackie Cain (of Jackie and Roy).
Kirchner describes the repertoire as "unabashedly eclectic". It comprises six originals of widely varying moods, including a tribute to the late soprano saxophonist Steve Lacy. Also featured are seldom-heard compositions by Manuel De Sica, Lorraine Desmarais, Toninho Horta, and Cal Tjader and one standard, the title track by Cole Porter.
Said the late jazz giant Benny Carter, "Bill Kirchner is one of those rare musicians who is able to synthesize an awareness of the past with his own voice, taking jazz in new directions that are firmly based on tradition." This CD exemplifies Carter's praise.
Kirchner, well-known as the longtime leader of the Bill Kirchner Nonet, has an exceptional command of the soprano saxophone. His playing on this CD is described by the stellar pianist Denny Zeitlin as "...a beautiful, personal sound on the soprano, with lovely graceful phrases and--all too rare--no wasted notes or cliches."
Kirchner is also prolific as a jazz historian, record and radio producer, and educator. He has received Grammy and NAIRD Indie awards, as well as a "Best Book" award (for editing The Oxford Companion to Jazz) from the Jazz Journalists Association.
Eddie Monteiro, profiled by Whitney Balliett in The New Yorker, is a nonpareil master of the accordion; his rich harmonic conception, combined with electronic MIDI capabilities, give him a range of expression unequalled by any other accordionist. He also sings in Portuguese and frequently does falsetto vocal lines with his improvisations. Ron Vincent, an exemplary drummer, has been a frequent associate of Kirchner's for two decades. He is best-known for his six years with the Gerry Mulligan Quartet and Tentet.
Guest vocalist Jackie Cain has one of the purest voices in contemporary music. Frank Sinatra once remarked that "you could tune a piano by Jackie Cain's voice". This is her first appearance on CD since the passing of her husband and musical partner Roy Kral in 2002.
"This CD is a unique and worthy addition to our catalogue," says Ed Berger, president of Evening Star, whose previous releases include CDs by Benny Carter and Phil Woods, Joe Wilder, Chris Neville, and Randy Sandke.
Everything I Love
and all other Evening Star releases are available through North Country Distributors and CDBaby.com. Reviewers' and radio programmers' queries can be sent directly to Bill Kirchner at
kirch@mindspring.com
.