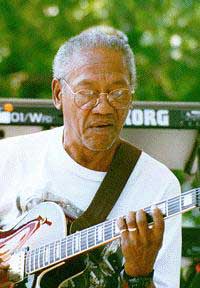 Ernest 'Ernie" Ranglin O.D, Jamaica's legendary guitarist who pioneered Jamaica's fertile reggae and ska scene of the late 1950s and early '60s and who's celebrated for his fluent and versatile guitar style, coupled with his arrangement skills is in constant demand at 78 (June 19.
In recent years, Ernest Ranglin has gone back to his roots and has made various cross cultural collaborations and concept albums including
Below the Bassline
on which he covers some of the greatest songs of the rock and roll era. He recorded
Memories of Barber Mack
as a tribute to the late Jamaican saxophonist Barber Mack.
The Search of the Lost Riddim
album took Ernest Ranglin to Senegal for his first visit since the mid 1970's when he toured as part of the Jimmy Cliff band. These recording sessions represent the accomplishment of a dream he had cherished for over 20 years: returning to Africa to record with African musicians.
Modern Answers to Old Problems
is an adventuresome mix of jazz sophistication and Afro-pop syncopation while his penultimate
Gotcha!
identifies Ranglin as a somewhat perfect instrumentalist.
His 2005 Telarc release
Surfin'
, recorded at Bob Marley's Tuff Gong Studios in Kingston, Jamaica, explores the elusive boundaries between jazz and orld music.
Visit Ernest Ranglin!
.
This story appears courtesy of JamaicaMusic Offbeat.
Copyright © 2021. All rights reserved.