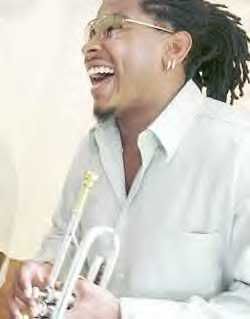 Delmark New Releases (Street Date June 17, 2008)

Corey Wilkes
Drop It
(Delmark DE 582)

Jazz trumpeter Corey Wilkes burst on the Chicago jazz scene in 2002. Corey took on the ghost of Lester Bowie and filled the vacant seat in the Art Ensemble of Chicago. Big shoes to fill for a new musician but Corey isn't an ordinary musician. He began at the age of 10, made the Illinois All State Honors Jazz Combo in high school and honed his talent at Berklee College of Music. His soulful notes can be heard gracing a variety of projects such as DJ sets by Logic, Osunlade and Josh Deep; tracks on Hidden Beach's Unwrapped Vol. 4, also recorded with Roscoe Mitchell, Art Ensemble, Tortoise, Ernest Dawkins, Nicole Mitchell and Ethnic Heritage Ensemble's Hot 'N' Heavy (Delmark DVD 1574, CD DE 574). With Chelsea Baratz, tenor sax; Jabari Liu, alto sax; Robert "Baabe" Irving III, piano and Fender Rhodes; Junius Paul, bass; Jeremy "Bean" Clemmons, drums. Drop It is Corey's debut CD as leader.



Cy Touff & Sandy Mosse
Tickle Toe
(Delmark DE 583)

One of the few bass trumpet specialists in jazz history, Cy Touff (1927-2003) was a fixture in Chicago for decades. Touff recorded albums for Pacific Jazz and Chess' Argo in the '50s. He worked in the studios, performed in clubs and recorded with Chubby Jackson and Lorez Alexandria in 1957, and with the group Hyde Park After Dark in 1981. Tenor saxophonist Sandy Mosse (1929-1983) was born in Detroit but spent much of his American playing time in Chicago. He moved to Paris at age 22 and recorded historical sides in the bands of Henri Renaud and Django Rheinhardt. He returned to Chicago in '55 and recorded for Argo. Touff and Mosse co-led an octet in the late '50s/early '60s called Pieces of Eight. Mosse relocated to Amsterdam in the late '70s where he spent his last years. Tickle Toe is a swinging 1981 date with John Campbell, Kelly Sill and Jerry Coleman.





Willie "The Lion" Smith & Don Ewell
Tea For Two, Live in Toronto 1966
(Delmark DE 249)

Willie "The Lion" Smith in the 1920s was considered one of the big three of stride piano, along with James P. Johnson and Fats Waller. He was an influence on the young Duke Ellington. Although he was a braggart and (with his cigar and trademark derby hat) appeared to be a rough character, Smith was actually more colorful than menacing and a very sophisticated pianist. Because he remained active into the early '70s, Willie "The Lion" Smith was considered a living link to the glory days of early jazz. A major if underrated pianist, Don Ewell started leading his own trios in Baltimore in the mid-'30s; played during the New Orleans jazz revival (starting in the mid-'40s) and was with Jack Teagarden during 1957-1964. Ewell moved to New Orleans, where he worked regularly during his last years. This 1966 date, recorded live at the Golden Nugget in Toronto, features solo performances by Smith, Ewell and duets by the two.



Byther Smith
Blues On The Moon, Live at the Natural Rhythm Social Club
(Delmark DVD 1796, CD DE 796)

Byther Smith is a fighter, a scrapper, a hard worker and a survivor. As a child in Monticello, Mississippi he lost both his parents; his mother when he was one year old and his father six months later. Shipped off to Arizona as a young man, Smitty took up boxing in part to deal with the pain. "I had 69 amateur fights and I only lost one." Smitty came to Chicago in the mid-'50s and by the early '60s was playing at Theresa's Lounge, where he backed Junior Wells. He also worked with Big Mama Thornton, George "Harmonica" Smith and Otis Rush. He recorded his first LP for the Grits label in 1983, two for Bullseye in the early '90s, and this is his fourth Delmark CD - his first live album. DVD contains one bonus track and Byther Smith commentary special feature. Also available: Mississippi Kid (Delmark 691), All Night Long (Delmark 708), Hold That Train (Delmark 774), Junior Wells, Live at Theresa's 1975 (Delmark 787).
This story appears courtesy of All About Jazz Publicity.
Copyright © 2021. All rights reserved.