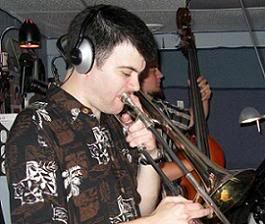 Jay T. Vonada's debut album is available from
cdbaby.com
The CD features eight original compostions ranging from swing to latin to funk. The band is made up of local talent in the central region of Pennsylvania. Adam Kurland on keyboards, Jacob Hibel on bass and John Sullivan on drums.


Vonada, plays in a variety of groups ranging from big band to small combos to pit orchestras. He played with Russ Kassoff, Jay Anderson and Dennis Mackrel in a big band setting at the 2008 Jazz PA Festival in Bellefonte Pennsylvania.
This story appears courtesy of All About Jazz Publicity.
Copyright © 2020. All rights reserved.