17th Rob Mullins Album Party in Pasadena
Hosted by BUBBA JACKSON from 88.1
Workshops with band members added for during the day
Saturday, March 8, 2008
Greetings!
Yesterday I drove down to KJAZZ during the Brad Williams shift and did a drive by! Well, not the bad kind you read about in the Times, but the good kind...a hand off of three Storyteller CD's in shrink wrap to Bubba Jackson after his shift at 88.1 was over. I was pretty thrilled when Brad Williams stuck the CD on within minutes and "In The Sun" from Storyteller was on the radio. Cool.
Bubba will be hosting my CD Release Party this weekend at the Pasadena Jazz Institute. If you haven't met Bubba, he is a blast, and this will be your chance. Brad Williams from KJAZZ will also be in attendance. Don't miss this chance for a cool jazz hang.
Storyteller Is The New CD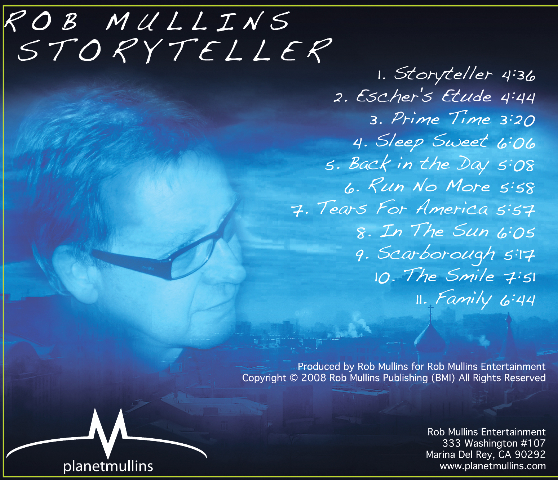 Workshops start at 3 pm on Saturday
As part of the educational emphasis at Pasadena Jazz Institute and a follow to Rob Mullins Students at the Grammy Awards, three workshops will be presented before the CD Release Party.
At 3 p.m., Larry Antonino will hold a bass workshop/class and talk about his career as bass player, composer, touring musician, and his role on the Storyteller CD. At 4 p.m., Tiki Pasillas will hold a drum/percussion workshop and talk about his career as a session musician and touring performer with Marc Anthony and Jennifer Lopez. At 5 p.m., Rob Mullins will hold a keyboard/composer workshop and talk about the creation of Storyteller and his career as a touring musician and recording artist. All workshops have a $5.00 fee per person, or you can attend all three for 10.00.
REQUEST MUSIC ON THE RADIO HERE
Pasadena Jazz Institute information
You can make reservations by calling the club at 626-398-3344. It is going to be a fun party!
Contact Information
Email:
[email protected]
Phone: 310-572-7245
This story appears courtesy of All About Jazz Publicity.
Copyright © 2021. All rights reserved.