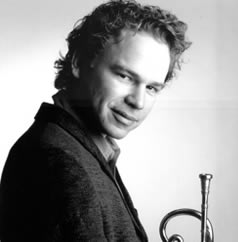 Brad Turner wins Trumpeter and Producer of the Year honours at 2008 National Jazz Awards
Wednesday, April 9, 2008 (Vancouver, BC)- The finest in Canadian jazz were honoured at the 2008 National Jazz Awards gala in Toronto Tuesday night.
Celebrating its seventh anniversary the NJA's handed out awards in a total of 22 categories and we are pleased to announce that award winning
Brad Turner one of Canada's most prominent, prolific and in-demand jazz artists
received top honours in the both the
Trumpeter
and
Producer of the Year
categories.
Based in Vancouver, Brad is known mainly for his trumpet playing,
(in 2007 Downbeat Magazine named Brad as one of the Top Trumpeters in Jazz)
but is proficient on three instruments -- trumpet, piano and drums -- and has recently been gaining more recognition as a world class composer and producer.
His latest recording
"Small Wonder"
released Oct 30 on the
Maximum Jazz
label and distributed by EMI Music has been hailed by critics as a complete album as you will hear with great sound, great playing and great compositions.
The National Jazz Awards Canada was created by pianist, composer and publisher Bill King, in an effort to fill the void in the jazz continuum. "Now, more than ever, Canadian Jazz artists have an enormous influence on the world stage and are contributing greatly to the genre", says Bill King. "The National Jazz Awards were created to honour these achievements at home."
Our congratulations to all 2008 award recipients:
1. Broadcaster of the Year - Katie Malloch
2. Journalist of the Year - Geoff Chapman
3. Festival of the Year - Vancouver International Jazz Festival
4. Jazz Photographer of the Year - Don Vickery
5. Drummer of the Year - Terry Clarke
6. Bassist of the Year -Jodi Proznick
7. Guitarist of the Year - Reg Schwager
8. Jazz Pioneer Award: Doug Riley
9. Artist of Distinction: Jeff Healey
10. Musician of the Year: Oscar Peterson
11. Trumpeter - Brad Turner
12. Saxophonist - Phil Dwyer
13. Trombone - Hugh Fraser
14. Big Band of the Year - Hilario Duran's Latin Jazz Big Band
15. Electric Band of the Year - Barry Romberg Random Access
16. Acoustic Band of the Year - Jodi Proznick Quartet
17. Clarinet - Phil Nimmons
18. Violin - Jesse Zubot
19. Keyboards - Nancy Walker
20. CBC Galaxie Rising Star - Chris Andrew
21. Socan Composer - Hilario Duran
22. Ken Page - Geoff Chapman
23. Female Vocalist of the Year: Emile-Claire Barlow
24. Male Vocalist of the Year: Joe Coughlin
25. International Musician of the Year - Wynton Marsalis
26. Latin Jazz Artist - Hilario Duran
27. Instrumentalist - Don Thompson
28. Arranger - Phil Dwyer
29. Label of the Year - Cellar Live
30. Producer - Brad Turner
31. Record of the Year - Jodi Proznick Quartet- Foundations(Cellar Live)
About Maximum Jazz:
The newly minted Maximum Music Group Inc is an award winning label and management company based in Vancouver, Canada and this young company has gone on to become an industry leader of discovering new and innovative ways to connect, promote and deliver artists and their music to the world; recently exemplified by the launch of the highly successful online music website
www.mymaxcast.com
- a music community and content aggregator providing valuable marketing resources and support for artists from around the world.
Maximum's artists and projects are distributed by EMI Music Canada and have been recognized with:
6 Juno Awards
9 National Jazz Awards
6 Western Canadian Music Awards
5 Canadian "Indie" Music Awards
Web Links:
Official Label Site:
www.maximumjazz.com
Brad Turner Offical Site:
www.mymaxcast.com/brad_turner
National Jazz Awards Site:
www.nationaljazzawards.com
This story appears courtesy of All About Jazz Publicity.
Copyright © 2020. All rights reserved.