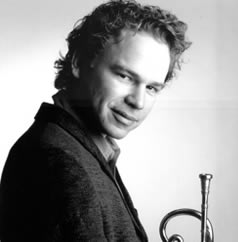 Vancouver, BC
– CARAS and the Juno Awards have released its list of nominees and we are proud to announce that Vancouver's
Brad Turner
Quartet together with their latest release Small Wonder has received a nomination for Traditional Jazz Album of the Year!
Juno award winning Brad Turner is one of Canada's most prominent, prolific and in-demand jazz artists and musician. DownBeat Magazine recently named Brad "one of the top trumpeters in Jazz today". Based in Vancouver, Brad is known mainly for his trumpet playing, but is proficient on three instruments — trumpet, piano and drums — and has recently been gaining more recognition as a world class composer and producer.
The quartets latest recording
Small Wonder
represents the ninth nomination in ten years for label Maximum Jazz and in early 2008 the album spent three straight weeks at the #1 spot on the Canadian Jazz Charts and has been hailed by critics "as a complete album as you will hear with great sound, great playing, and great compositions".
The 2009 Juno Awards will be hosted by comedian Russell Peters and airs on CTV on Sunday, March 29 from General Motors Place in Vancouver, BC. Congratulations to all other nominees and for a full list of the categories and nominations visit the Juno website at junoawards.ca.
About CARAS and the Juno Awards
The Canadian Academy of Recording Arts and Sciences/L'academie canadienne des arts et des sciences de l'enregistrement (CARAS) is a not-for-profit organization created to preserve and enhance the Canadian music and recording industries and to contribute toward higher artistic and industry standards. The main focus of CARAS is the exploration and development of opportunities to showcase and promote Canadian artists and music through vehicles such as The JUNO Awards. For more information on the 38th Annual JUNO Awards or The Canadian Academy of Recording Arts and Sciences' (CARAS) please visit carasonline.ca and junoawards.ca
About Maximum Jazz
Maximum Jazz is a division of The Maximum Music Group, a full service music marketing company based in Vancouver, Canada. Their award winning artist management and label divisions have released over 100 albums to date and have overseen the careers of some of the most respected acts in music today including Brad Tuner, Angela Harris, Honey And The Money, Metalwood, Zubot & Dawson, Jim Byrnes, Denzal Sinclaire, Randy Bachman and The Guess Who.
Maximum's artists and releases are distributed by EMI Music Canada and have been recognized with:
6 Juno Awards
7 National Jazz Awards
6 Western Canadian Music Awards
5 Canadian "Indie" Music Awards
This story appears courtesy of All About Jazz Publicity.
Copyright © 2021. All rights reserved.