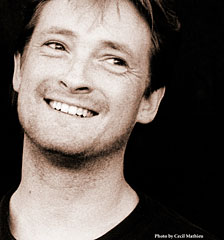 Pianist, Composer, & Bandleader Bill Carrothers will be performing with his Trio (featuring Nicolas Thys on bass, Dre Pallemaerts on drums) at The Village Vanguard in NYC from Tuesday, July 14, 2009 thru Sunday, July 19th, 2009

Bill Carrothers Trio:
Bill Carrothers - Piano
Nicolas Thys - bass
Dre Pallemaerts - drums

"One of the most underrated jazz pianist around." Pacific Sun

Bill Carrothers Trio

The Village Vanguard
178 7th Ave. South
New York City

Tuesday, July 14th thru Sunday July 19th, 2009
Set times- 9:00 PM & 11:00 PM
For reservations and admission information call (212) 255-4037

Bill Carrothers has been a professional pianist for over 20 years. He has played many venues throughout the U.S. and Europe including the Village Gate, Knitting Factory, Birdland, Blues Alley, New Morning (Paris), the Audi Jazz Festival in Brussels, the Nevers Jazz Festival (where he shared the bill with Abbey Lincoln), the Montreal Jazz Festival, Jazz Middelheim, and the Marciac Festival in France. In October of 2000, Mr. Carrothers headlined the prestigious Rising Star Tour throughout Germany, Austria, and Switzerland. He has been a leader on sixteen recordings, all of which have received critical acclaim. His sideman credits have included some of the greatest names in jazz, including Joe Beck, Scott Colley, Buddy DeFranco, Dave Douglas, Curtis Fuller, Eric Gravatt, Drew Gress, Tim Hagans, Billy Higgins, Lee Konitz, James Moody, Matt "Guitar" Murphy, Gary Peacock, Dewey Redman, Charlie Rouse, James Spaulding, Bill Stewart, Ira Sullivan, Toots Thielemans, Mark Turner, and Benny Wallace.
This story appears courtesy of Two for the Show Media.
Copyright © 2020. All rights reserved.