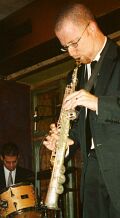 FEATURING: YUVAL COHEN (soprano saxophone) + SHAI MAESTRO (piano)

Yuval Cohen also appearing with The 3 Cohens in Celebration of the Release of Family:

November 1-6: The Village Vanguard, NYC

November 10: Scullers, Boston, MA

November 11: Shalin Liu Performance Center—Rockport Music Hall, Rockport, MA

November 12: Koerner Hall, Toronto

Double bill with The Jamey Haddad Arab Jazz Ensemble

Yuval Cohen's new recording for Anzic Records, and his 2nd as a leader, Song Without Words, is all about melody, and a simple, heartfelt and honest dialogue between two friends, and two masterful musicians, Yuval (soprano saxophone) and Shai Maestro (piano). It is an expression of an outlook that merges various musical disciplines, creating a unique and very personal blend. "I feel at home playing in this manner—on the one hand feeling an intense musical activity, yet on the other experiencing a transparency and softness that are the result of the dialogue," explained Cohen.