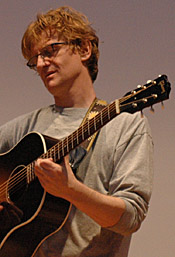 Geoffrey Armes examines both his songwriting and peregrination of the last three decades in his latest disc, Anima 91, available as a free download via his GeoffreyArmes.com website.

"This is collection of songs I wrote during the nineteen eighties and nineties," he notes, "interspersed with a few instrumentals created in 2007. They were originally created for friends, public figures, and figments of my imagination, and this is the first time they have been released. "

As well as advancing his arranging skills with poignant yet energetic settings, Armes is utilising the internet to the advantage of both himself and his loyal fan base. While you are welcome to buy this new music on CD, the UK born composer actively encourages you to download it -- for free.

"This is a gift really, to those who stuck by my eccentric ways for the last few years," he notes.

He also has this to say:

"At the time I wasn't really sweating writing new material so I was able to spend time on lavish arrangements and production, messing with orchestration, percussion, vocal arrangements, effects etc as well as guitars. Consequently some of the tunes have taken on what I hope is a 'timeless' world fusion vibe, while others may still deliberately sound like they were written in the nineteen-eighties."

There are also short neo-classical jazz/fusion instrumental pieces dispersed through the album.

The download release also features fourteen pages of what Armes calls 'Note Art," available in pdf form: small paintings, drawings and sketches he made when the pieces were originally conceived.

All in all, an intriguingly beautiful piece of work, synthesising visual and and audio elements.

Unbeatable at the price, so click through for your copy.
This story appears courtesy of All About Jazz Publicity.
Copyright © 2020. All rights reserved.