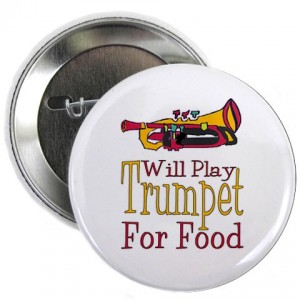 As the title of this blog suggests, I pride myself on being a working musician. This year marks my 10th anniversary of making a living through my music and I couldn't be happier with how my life has turned out. When I quit my day job in 2001 I had no idea what my life would end up looking like, but I knew that whatever the outcome I'd be happier if I at least tried to build my life around my passion for playing music. From where I sit now, I can't imagine it turning out any other way!

One thing I've realized over the years is that most people have no idea what it really means to be a working musician. Even musicians and music industry "experts" seem to have no real grasp on the day-to-day lives of what I like to call the "musical middle-class."

In the last few days there has been renewed discussion of this topic because of an article NPR wrote about the band Cake, and their dubious distinction of having the lowest-selling #1 record in the 20-year history of calculating record sales (it sold 44,000 copies in one week, FYI, which still seems a staggering number to me!). In reading the responses to this, and writing a few of my own on various blogs, I've formulated a few ideas I'd like to share with you about what it really means to be a working musician.

I Have A Job—Just Like You

Artists often like to talk about the time we quit our "day job." I even did it 2 paragraphs above. It's a nice way of delineating our pre-artist life from our post-artist life. But in reality it's a misnomer. I still have a day job. It may not look like yours or the doctor or salesman or barista or truck driver, but it's a job nonetheless. My job is playing weddings. That's what I do to make a living. And just like the doctor and salesman and barista and truck driver, I work hard at my job so that I can make money. I do it so that I can use that money to live the kind of lifestyle I want. And like anyone else, much of my time and energy is devoted to this pursuit. In a comment I left on a blog post over at Hypebot I mention that I make 75% of my money on 10% of the days of the year. In reality, that was me stretching the truth a bit to make a point. While it's true that I average about 35 weddings (and corporate events) a year, which translates to 35 workdays, or 10% of the year, the fact is that I work a least 5 days a week, 52 weeks a year, hustling to find, market to and land those gigs. That is my day job.

In that same Hypebot post I linked to above, Suzanne Lainson of Brands Plus Music laid out her ideas about how "most non-famous full-time musicians make a living." Here's her list:
Playing in multiple bands so that they gig as much as five times a week.
Playing at weddings and other gigs that come with a guaranteed $1000—$3000 per gig.
Teaching music, as much as 20 -40 kids a week.
Church music director.
Being in a cover band.
Playing on cruises or in dinner theaters.
Playing in a house band or being the solo pianist at a bar.
While there are certainly other ways musicians make money (composing, arranging, copying, licensing, etc), her list is pretty sound. I've done all but # 4 & 6. And while I agree with Suzanne's facts, I do not agree with her conclusions. She goes on to say that:
The problem with all of the above is that the musicians who do it tend not to get a lot of respect, either from the music reviewers or from other musicians. Being a wedding musician tends not to be something musicians proudly announce. It's not considered very prestigious. The non-famous musicians I know who are making the most money are viewed rather condescendingly by local music critics and by up-and-coming musicians who think that kind of thing is akin to selling your music soul to make a buck.

But playing original music that the bloggers love tends to be the least lucrative kind of music you can do.

The advantage of having a [non-musical] day job that pays the bills is that you can do the music you love without regard to whether it pays the bills. That can be very creative.


The problem with Suzanne's conclusions are that they are about respect, prestige and what other musicians and bloggers think of all this. Frankly, I couldn't care less what anybody thinks of the way I make my living except for me and my family. Granted, I'm a little older than your average wanna-be rockstar, and I'm a jazz musician, but I am wholly unconcerned with what anybody thinks about my chosen day job. Just like the musician Susan refers to who supports their music through a non-musical day job, I'm doing what I can to survive. Unlike those folks, my day job allows me to play music much of the time. And while most musicians with non-musical day jobs are busy complaining about all that entails, I'm building my chops, practicing and playing with musicians I love and respect.

Now, just because I don't care what people think about my day job, that doesn't mean I don't care what people think of me as an artist. Which leads me to my next point...

Art Vs. Commerce

Artists are always talking about this perceived dichotomy. It is a constant source of frustration and anger with many artists I know. I choose to look at it a bit differently. While I do see a distinction (i.e. playing a wedding = commerce, writing music for my quartet = art), I don't see it as black and white polar opposites. In my world, commerce serves my art, and art serves my commerce.

Weddings may be mostly a source of income for me, but I can say with absolute certainty that I have learned something about music and art at almost every wedding I've ever played. That's because I approach weddings like I would any other gig. I hire the best musicians I can find (usually my working band), I try to play as musically as I can, and I try to have fun. Similarly, I know that when I'm composing a new piece of music, that music has the potential to end up on a CD which I will sell and therefore make me money. It's all a means to an end, really, and that end is the lifestyle I've chosen.

Now, don't get me wrong, I realize that there are people out there who do art for art's sake. I have nothing but respect and admiration for those people. The world needs artists who are not concerned with anything but their art. However, I would say that those people make up a tiny fraction of the artists in the world, and those people probably won't call themselves "working artists." Just artists.

But remember, even Mozart made money writing and performing music for the royals who hired him. And Michelangelo totally resented the commission he got to paint the Sistine Chapel. But they did it anyway, because they were working artists, and great art was created in the process.

David Hahn over at Musician Wages wrote a great article recently about working as a musician. It's a good read, especially for the last part, where he spells out one way you can make $50,000 a year:
How to Really Make $50,000 a Year

Get a church job (3 services a week @ $100/service) = $15,600
Start a teaching studio (12 students @ $50/lesson) = $31,200
Play background music once a month (@ $250/gig) = $3,000
Play in a band twice a month (@ $50/gig) = $1,200

That's $51k a year. That's how it's really done.


That's just one reality for you. There are many other scenarios that can add up to 50k a year. The important thing is that it's based in reality. Which leads me to my next point...

There Was No Golden Age

Many folks who decry the state of the music industry these days point to some mythical "golden age" when they think it was easier for a working musician to make a living. I don't believe such an age ever existed. All working artists have had to struggle, hustle, be creative, roll with the punches and piece together a living doing multiple jobs. It's never been any different and it won't ever be. That's the plain and simple fact. But that doesn't mean it's impossible. Rather, all evidence supports the fact that it is entirely possible.

The good news is that today, we have tools at our disposal that make it exponentially easier to be an independent working artist. Which leads me to my next point...

Technology Is Your Friend

For the history of recorded music and the "music industry" (which is all parts of the music world that don't relate directly to making music), there have been gatekeepers between the artist and the potential fan. Mostly, the record labels. This is because they controlled the distribution. If you wanted to get your music heard outside of your town, you had to have a label help you get it recorded, released, promoted, played on the radio, placed in record stores, etc. There was almost no way of doing this yourself. That all started to change when Derek Sivers created CD Baby. This was the first major avenue of distribution that was open to every musician, with or without a label. What Derek did was to remove the middle-man. This has led to a total shift in how independent musicians can reach their fans directly.

Since then, literally thousands of other tools, companies, websites, etc. have sprung up to help us indie's get our music out to the world. Nowadays, we can record, distribute, promote and sell our music without ever leaving the house! It has never been easier to find your potential audience, connect with them, and get your music in their ears. With a little research, hard work and ingenuity, you can be a fully self-contained and self-sustainable music business yourself. But you have to think of yourself as a business, and use both the time-tested best business practices and the new emerging technologies to help you succeed. If you don't want to do that, that's cool, but that probably means you're going to have a tough time being a working musician. Which leads me to my next point...

Working Means...Working!

I once took a trumpet lesson from the great Brian Lynch, and he said something to me that I'll never forget. He said that practicing is the job, and that if you don't truly enjoy practicing then you may as well find another job that you do enjoy, because life's too short. I really took that to heart and it changed the way I feel about practicing. These days, however, I realize that there are other parts of what I do that are "the job," from blogging to tweeting to hustling gigs, etc. And I've found a way to enjoy all these things. That's the only way I can be happy at what I do.

If you want to be a working musician (or artist or doctor or plumber), you have to work at it! That's a simple concept that's not so simple to execute. But like all things that are worthwhile, it takes effort, commitment, drive, enthusiasm and a positive attitude to achieve. As I mentioned above, the internet is a great too to help you achieve your dreams. But it's also a place where lots of people will tell you its not possible and give you many reasons why. Don't listen to them. Instead, search out the people who are actually doing it and listen to them! We are out here and we are willing to help.

I'm Always Working ;)

If you'd like to help me continue to be a working musician, I invite you to check out my the single from my upcoming CD, Five Leaves Left: A Tribute To Nick Drake. If you like what you hear, you can pre-order the music on a Pay-What-You-Want" basis:


Postscript: While writing this post I came across a number of other great posts on the subject. Here's a list. They are all good reads: