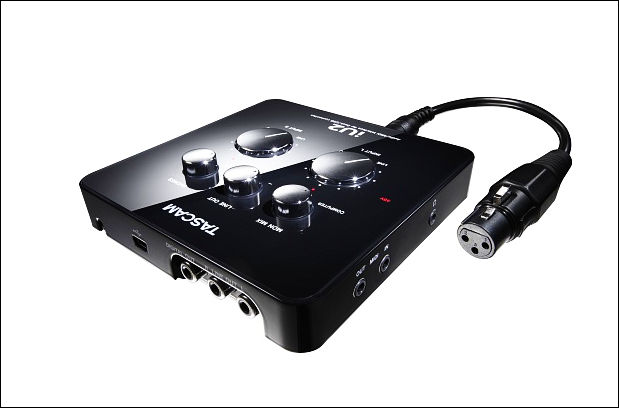 TASCAM's iU2 is a premium sound quality audio interface for the iPad, iPhone and iPod Touch.
It includes all of the features of TASCAM's best-selling USB audio interfaces, including a pair of great-sounding microphone inputs. The XLR inputs have phantom power for use with high-quality condenser microphones. These feed an onboard microphone preamp and A/D converter for better sound performance than those built into iPhone and iPad—true stereo recording with low noise and less tendency to distort. The inputs also accept line-level signals or you can plug a guitar or bass directly into your device.
ART Tube MP Project Series Tube Microphone/Instrument Preamp
With the ART Tube MP Project Series USB Preamp and Audio Interface you get professional results from a single-channel mic, instrument, and line level preamp with limiter. This ART professional microphone and instrument tube preamplifier can serve as a simple front-end for your iPad, computer DAW or standalone recorder.
The front end features an ultra low-noise, discrete microphone preamp with an extremely flat and wide frequency response to give you a very clean and neutral sound with a wide variety of signal levels. The high-impedance instrument input is optimized for guitar pickups, and both the XLR and 1/4" input levels are monitored via a precision LED level meter. A high-quality 12AX7A tube inside adds warmth and musical dynamics."Our thoughts: This pre-amp with USB output will allow you to use any standard XLR or 1/4" phone jack microphone to record to your Mac or Windows computer.
Blue Microphones Icicle XLR to USB Converter
Stylish USB converter and mic preamp combination that allows you to connect any microphone (XLR) directly into your computer via USB (cable included).
Integrating a studio quality microphone preamp, 48V phantom power, fully balanced low-noise front end, analog gain control, and driverless operation, the Icicle makes your microphone setup a snap. Easy recording of vocal tracks on your Mac for GarageBand projects.
Simplify the recording process
The Icicle works with both dynamic and condenser microphones, providing high-quality and hassle-free connectivity to a Mac or PC. Whether you're using a microphone for digital recording, podcasting, voice messaging, or voice recognition applications, the makes connections quick and easy.
Simply plug in and record

Integrated USB microphone preamp

Phantom power provided for condenser mics

Low-noise analog front end
Highlights
Plug and record—no special drivers required
Built-in studio-quality USB microphone preamp
Supplies 48V phantom power for condenser mics
Fully balanced low-noise analog front end
Analog level control
Phantom power active light
USB cable
AmpliTube iRig
Play your guitar through your iPhone. With AmpliTube iRig, you can plug your guitar or bass in to your iPhone, iPod touch or iPad and jam anywhere with an expandable collection of amps and fx. Play, practice and record with world-class tone right in the palm of your hand.
* Mono input designed for electric guitar, bass and more
* Stereo output for connecting to headphones, amps, speakers
* Connector jack plugs into headphone input for future-proof operation
* Works with AmpliTube FREE app
The iRig interface adapter is the easiest way to get your instrument's signal into your iPhone, iPod touch or iPad. Simply plug iRig into your Apple device, plug your instrument into the iRig, plug headphones or amplifier to the output and you are ready to rock.
Great flexibility
The iRig is the ideal companion not only to AmpliTube's line of guitar amp and effects apps, but also works with any other recording, processing or tuning apps. Plus, you can also use it with line level signal sources such as synthesizers, keyboards or mixers.
Super easy to use
Simply connect your instrument, download the AmpliTube FREE app from the App Store and start rocking. You'll be able to play through an entire guitar rig of famous effects, amps and more, with unbelievable realism. Plus you can play along with your iPod music library.
Highlights
1/4-inch mono input designed for electric guitar and bass, but also works with keyboards, hand-held microphones, mixers
1/8-inch stereo output can connect to headphones, amplifiers, speakers or stereos
1/8-inch connector jack plugs into to your Apple device's headphone input for future-proof operation
Works with AmpliTube FREE for the iPhone/iPad app, letting you play, practice and record through famous guitar amps and effects right on your phone
Compatible with other iPhone/iPad apps: Tuners, metronomes, recording apps, amp sims