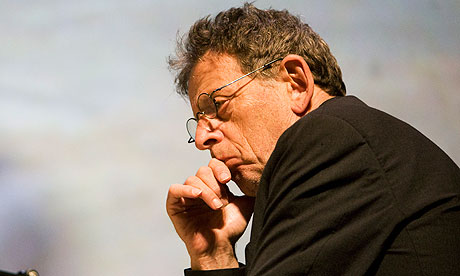 Tune-In Music Festival celebrated the composer Philip Glass's 75th birthday in a program that included performances by the organist Michael Riesman, the Collegiate Chorale and the Brooklyn Youth Chorus, conducted by James Bagwell, at the Park Avenue Armory on Sunday.

In classical music, a landmark birthday for a composer of note is nearly always celebrated with a concert (more likely, concerts) stuffed full of significant works. Philip Glass, true to his status as an idiosyncratic maverick, adopted a different approach in helping to program the second annual Tune-In Music Festival, which ran from Thursday through Sunday at the Park Avenue Armory.

Mr. Glass, who turned 75 in January, hardly refrained from showcasing his own works during the festival, which included a mesmerizing traversal of his still-imposing 1974 watershed, "Music in 12 Parts," on Saturday evening. But Mr. Glass turned the spotlight on the guitarist Bill Frisell on the opening night and shared it with the rock poet Patti Smith on Friday.

On Sunday afternoon Mr. Glass ceded the stage to other performers and composers again, but there was an important subtext embedded in his disparate assemblage. If artists and pieces that transcend genre boundaries have become the norm, we partly have the trailblazing example of Mr. Glass—who early on absorbed crucial elements from Indian music, and later collaborated with pop troubadours and master musicians from around the globe—to thank for it.

Vijay Iyer, a prodigiously gifted Indian-American jazz pianist and composer, did just that when he introduced Tirtha, his trio with the Indian musicians Prasanna, who plays electric guitar in the South Indian Carnatic style, and Nitin Mitta, a tabla player trained in northern classical styles. The trio, Mr. Iyer said from the stage, arguably could not exist without Mr. Glass's achievements. A delicate balance among Prasanna's fluid slurs and wobbles, Mr. Iyer's wheeling patterns in strict intonation and Mr. Mitta's intricate, bubbly rhythms infused three supple, elegant pieces.

Earlier the composer and pianist Nico Muhly, who has worked extensively with Mr. Glass, played five brief, appealing original pieces with the violist Nadia Sirota. If reedy organ samples and insistent, repetitive rhythms suggested an inheritance from Mr. Glass, concision and a holistic integration of digital media indicated Mr. Muhly's divergent path. And Tania León, playing piano alongside Samuel Torres, a percussionist, fused the barbarous perplexity of early Stravinsky with Gershwin-esque swagger and the salsa master Eddie Palmieri's reckless brio in an original piece dedicated to Mr. Glass.