Studio honors career-making composer Stanley Wilson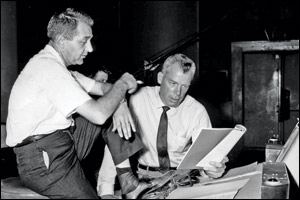 Stanley Wilson Avenue connects Main Street with James Stewart Avenue on the Universal lot, not far from the now-demolished Stage 10 where its namesake conducted literally thousands of hours of music by young composers who would go on to become the biggest names in Hollywood film music.

As music director for Revue Prods. (later Universal Television) from 1954 to 1970, Wilson either launched or helped to propel the careers of more than a dozen top film and TV composers including John Williams, Jerry Goldsmith, Quincy Jones, Lalo Schifrin and Dave Grusin.

"He was greatly important to me, and to so many others," says Williams, who went from in-demand studio pianist to fledgling TV composer when Wilson hired him in 1958. "He nurtured and encouraged younger people, most of whom have gone on to distinguished careers."

Revue/Universal was a TV factory in those days, and Wilson, who had composed for Republic Westerns and serials in the late 1940s and early 1950s, was in charge of supplying music for all of them. Wilson served as music supervisor on hundreds of episodes, from "Alfred Hitchcock Presents" and "The Virginian," to "Name of the Game" and "It Takes a Thief." Williams spent seven years under Wilson's tutelage, learning the craft by scoring sitcoms ("Bachelor Father"), detective shows ("Checkmate"), dramas ("Alcoa Premiere") and Westerns ("Wagon Train").

Says Schifrin, who composed the theme to "Mission: Impossible": "Stanley taught me all the synchronization techniques, and how to make my writing easier to conduct. He was one of the most influential guys in Hollywood."

Wilson hired Schifrin right after he arrived in Hollywood, in 1963. "I didn't realize at the time that my career in movies and television was going to be so big, and it was thanks to him." Wilson took an active interest in his proteges' non-film work, even driving Schifrin to rehearsals for his jazz concerts.

Wilson was that rarity in Hollywood: a warmly supportive boss. He was also a man with a strong moral compass: He enabled Benny Carter, the famed alto saxophonist and jazz arranger, to become the first black composer to achieve screen credit in TV, for the music for the Lee Marvin copshow "M Squad."

A few years later, when Quincy Jones came out from New York in 1965, Wilson championed him by giving him "Ironside." "That's where I paid my dues," says Jones.
comments powered by

Disqus