Summer Reigns as URB ALT Festival 2009 Announces June Dates
New York, NY -- The fourth annual URB ALT Festival brings exciting multi- cultural music/film/visual artists to Harlem, Downtown Manhattan and Brooklyn. The popular summer festival runs from June 20-27. During the week URB ALT Festival 2009 will present live music performances, a feature film premiere, an art exhibition, a fashion show and album release parties that feature the best of underground and nationally recognized alternative artists. Artists to be announced shortly.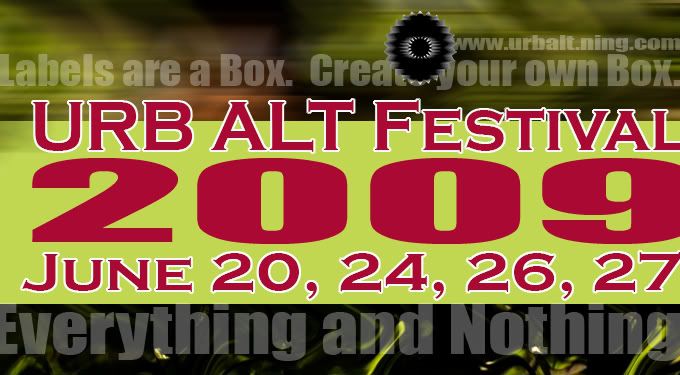 ABOUT URB ALT

URB ALT is Underground Railroad Broadcasting Alternatives, a music/film/visual arts series and media company founded by Boston Fielder in 1998 to serve the creator and audience seeking uncut entertainment, intellectual profundity and artistic honesty. URB ALT's mission to cross pollinate musical/visual experiences aims to focus artist and audience alike on how creatively expansive and socially resonant popular culture can be.

URB ALT Festival 2009 is produced by BossTon Communications and sponsored by Odd Endeavors, Daisy Rock Guitars, Sweatshop Rehearsal and Recording Studios, BigHead Scientists, Fusicology and BAM.
comments powered by

Disqus