Elton John and Billy Joel in Concert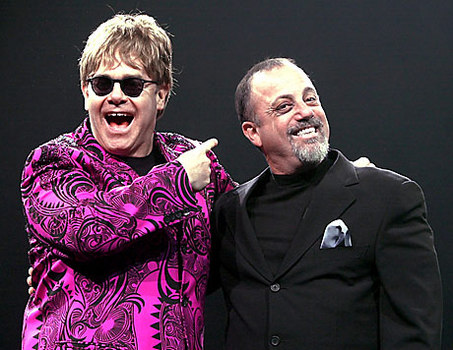 Saturday night's alright for the piano men, who gave fans a three- hour show full of hits.
Partnerships between pop superstars usually deliver less than the sum of their talents. Nostalgia isn't always enough, but a surprising collaboration between Elton John and Billy Joel, who play nothing more than their best-known hits from the '70s and '80s, has been going strong since 1995.
That was enough to land the singer-pianists in front of a full house at the Honda Center in Anaheim on Saturday as part of their latest "Face 2 Face" tour. If either headliner had any new material, it remained a secret during three full hours of music, including a short opening from the two and two separate sets followed by a big finish of Joel and John together.
John, in black tails, dived into "Funeral for a Friend/Love Lies Bleeding" with his five-man band. He pounded the keys of his grand piano with real force, in what he described as his 40th year since making his U.S. debut in Los Angeles.
For a time in the '70s, John was the dominant pop superstar, a staggering cultural force whose impact went far beyond chart action and airplay. If that fame became increasingly focused on his sparkling outfits and less on his musical gifts, the original songs from that period have managed to live on in ways unknown to most of his contemporaries.
He invited fans to sing along to "Goodbye Yellow Brick Road" (as they would have anyway). There were rousing crescendos and boogie-woogie side trips, a sound both flamboyant and grounded in human-scale emotion, from a stretched-out "Rocket Man" to a rocking "Saturday Night's Alright (For Fighting)."
There was no mistaking Joel's genuine connection with fans. The lightest of his hits ("Just the Way You Are," "Only the Good Die Young") were still soft and awfully close to easy listening, but the audience cheered him all the more.
comments powered by

Disqus