Trumpeter Vinnie Cutro & New York City Soundscape Release "Sakura"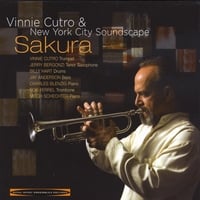 On Sakura, his 4th album as a leader, trumpeter Vinnie Cutro presents a set of straight ahead mainstream jazz that extends the legacy of such hard-driving bands as Art Blakey & The Jazz Messengers and the 1950s quintets led by Horace Silver and Miles Davis.

Cutro contributes 6 originals and a haunting arrangement of the familiar traditional Japanese melody "Sakura," the CD's title track. The band--including master drummer Billy Hart and the acclaimed saxophonist Jerry Bergonzi--also delivers a suitably wistful take on the chestnut "Willow Weep For Me" and reverent interpretations of modern jazz classics by Eddie Harris and Thelonious Monk.

A New Jersey native, Cutro has established himself as a fixture on the NYC jazz scene as both a freelancer and band leader. He's toured internationally and recorded with Silver, Buddy Rich and the Lionel Hampton Quartet and has appeared as a sideman on over 50 recordings.

With the release of Sakura this "musician's musician" should receive the recognition he clearly deserves for his vital and distinctive voice as a player and composer.



Track Listing


Sakura (Trad. / arr. Cutro) 6:43
Three for Me 7:19
What is This Thing? 7:07
Willow Weep For Me 9:08
Tell Tale 8:02
Freedom Jazz Dance 5:23
Blues For Roy 8:36
Round Midnight 8:58
Big Chief 5:31
Time Will Tell 7:03
Total Time 60:14
All compositions / arrangements by
Vinnie Cutro Copyright © 2007/ Royal
Music Ensemble Publishing (BMI) except
#4 (Ann Ronnell), #6 (Eddie Harris) &
#8 (Thelonious Monk)
Personnel
Vinnie Cutro - Trumpet / Leader

Jerry Bergonzi - Tenor Sax

Billy Hart - Drums

Jay Anderson - Bass

Charles Blenzig - Piano

Bob Ferrel - Trombone (#1, #6)

Mitch Schechter - Piano (#4, #8)
Praise
"[Cutro plays]...hot,cool,sweet and tart. He follows in the footsteps of some of the greatest modern jazz trumpeters." --Philip Elwood, The San Francisco Examiner

"His forte is hard bop, his chops fashioned after Freddie Hubbard and Lee Morgan and his arrangements reminiscent of Horace Silver." --Owen Cordle, JazzTimes

"Hampton's most memorable soloist." --Jazz Express (UK)


comments powered by

Disqus