Dan Phillips Trio Releases "Destination Unknown"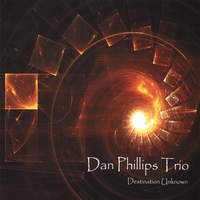 After several years in Asia guitarist Dan Phillips reunites with his Chicago Trio for their third release Destination Unknown. This release once again features Phillips's unique writing and playing style with artful contributions from two long time compatriots Tim Mulvenna and Krzysztof Pabian. From harmonically rich compositions to deep grooves and wide open blowing this release is tuneful, adventurous and indeed their best yet!


About Dan Phillips


Dan Phillips has worked as guitarist, bandleader and jazz educator in New York, Bangkok, Chicago and Tokyo. His Chicago based Trio has released three original recordings "Journey in Mind", "Moment of Clarity" and "Destination Unknown" . He is a graduate of Berklee College of Music and Northwestern, University and is currently Assistant Professor of Guitar at Minnesota State University Moorhead. Dan has performed internationaly with jazz musicians such as Gerald Wilson, Danillo Perez, Judy Roberts, Jeff Parker, Matt Darriau, Jim Black, Ben Street, Chris Speed, Pat Zimmerly, Mike Sarin and Ed Thigpen.


About the Dan Phillips Trio

I have had the good fortune of working with Tim and Krzysztof for nearly 10 years now and this is our third recording together. I may be credited with the compositions here but Tim and Krzysztof are truly equal contributors in the communication of the music. Despite living outside Chicago for the past several years now many of them in Asia I have returned regularly for gigs and sessions with these guys throughout that period as well as some performances overseas together. It is a rapport I have found nowhere else and hope can be heard clearly in this session. The compositions here are reflections on my personal experiences and travels over the past several years. Experiences I can't put into words are addressed here in a way I hope can be shared with others.

Destination Unknown Sounds Samples at CD Baby
comments powered by

Disqus