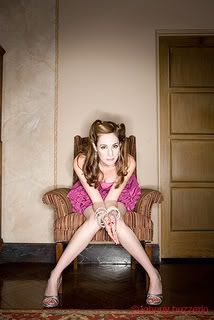 TV Guide suggests that the television pilot Sex Ed: The Series, produced and directed by multi-talented jazz artist Tamela D'Amico, should be the next hot property picked up by a cable television network.
Damian Holbrook of TVGuide.com writes, "As we head into the fall, you'll be hearing a lot of talk about the "hottest shows" of the new TV season. Melrose Place, Glee, Accidentally on Purpose. (Just kidding about that last one. Jenna Elfman's new crapcom stinks like bad fish left in the sun, actually). But it turns out that the hottest property out there is still waiting to be picked up.
Sex Ed: The Series is at this point an unsold pilot looking for a home, and based on the slightly NSFW trailer—which we keep rewatching to make sure we're actually seeing what we're seeing (and hoping our bosses don't catch us)— this naughtiness could be cable's next guilty pleasure. Six Feet Under's awesome Joanna Cassidy as a randy, potentially deranged college professor. Harper's Island casualty Matt Barr as, well, some sexy blonde dude. Genital-sculpture class assignments. Come on, Showtime. Step up and show some cojones…if you can make us love the druggie dames of Nurse Jackie and Weeds, a little Sex fest shouldn't be that much of a, um…hard sell, right?"

D'Amico will have more to celebrate at the end of this month when she performs at her concert for her recent album release on LML Music, Got A Little Story.