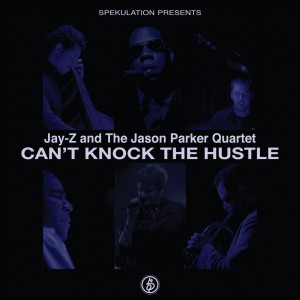 Seattle's

Jason Parker

Quartet has recorded their latest album Five Leaves Left: A Tribute To Nick Drake, due out next month. Parker sent the mixes to his friend, hip-hip producer Spekulation for his input, and in return got back a 6 tracks cut up and remixed with Jay-Z lyrics!

"Can't Knock The Hustle" is the first single from the "Smoke 'Em If You Got 'Em" EP by Spekulation, available February 29th.

"Smoke 'Em If You Got 'Em" is a 6-track EP featuring instrumentals by Spekulation, composed entirely of samples from The Jason Parker Quartet's upcoming album, Five Leaves Left: A Tribute to Nick Drake. These instrumentals are paired with classic lyrics by Jay-Z to form something altogether new, all the while paying homage to the traditions that come before.